After years of being criticized by pro-Palestinian activists, SodaStream is moving its factory in an Israeli settlement in the West Bank to the Negev Desert, in southern Israel.
The company's factory in the West Bank, controversially located in what the United Nations considers an illegal Israeli settlement, will shut down in two weeks and move to the desert.
A pro-Palestinian protest group, the Boycott, Divestment and Sanctions (BDS) movement, has called for people to boycott SodaStream over its West Bank operations.

"This is a clear-cut BDS victory against an odiously complicit Israeli company," Omar Barghouti, a co-founder of the BDS movement, told The Associated Press, adding that they would continue to boycott SodaStream because the Negev desert is home to Bedouin Arabs, and Israel has previously suggested they may resettle them. SodaStream employs at least 300 Bedouins, according to The Associated Press.
SodaStream's chief executive Daniel Birnbaum said the decision to move the factory, which was first announced in October last year, was based on finances with the boycott having had only a "marginal" effect.
G/O Media may get a commission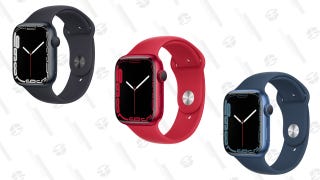 Up To $45 Off
Apple Watch Series 7
"It's propaganda. It's politics. It's hate. It's anti-Semitism. It's all the bad stuff we don't want to be part of," Birnbaum said.
Birnbaum told the Independent at the time, "It has nothing do to with politics; we're relocating to modern facility that is three times the size. But if it was up to me, I would have stayed. We showed the world Arabs and Jews can work together."
The company also says they employ 600 Palestinians at their West Bank factory, The Associated Press reports, only 130 of whom have received work permits from Israeli authorities at the new factory, they said.
Last year, Scarlett Johansson stepped down from her role as a global ambassador for Oxfam after she promoted SodaStream in a Super Bowl commercial. In a letter to the actress, the international non-profit said they believe "that businesses that operate in settlements further the ongoing poverty and denial of rights of the Palestinian communities that we work to support."