By now, everyone knows that the conversation around pay inequity in Hollywood isn't going away any time soon. As women of all races, and people of color of all genders, speak out about the disparities they have faced, the entertainment industry has slowly been forced to come to terms with its sexist and racist pay practices.

The cover story in the latest issue of Variety dives straight into the issue, talking with actors, network executives, and researchers and painting a picture of how pay inequality works in practice and what's being done to bring basically anyone who's not a white man up to par. One disturbing thread running throughout the piece is the unwillingness of major studio executives to fundamentally tamper with the structural barriers preventing the pay gap from closing.
As Community actress Yvette Nicole Brown explained to Variety, the oft-mentioned "quote" system which dictates how actors are paid for each project does not work for people of color.
"Your quote goes up when you book pilots," she said. "Minorities don't have as many opportunities to book pilots. I've been in the running for four pilots in my life, and I've booked three of them. There are some white actresses who go out for four pilots on a Tuesday morning."

In response to this issue, network executives insisted to the magazine that they were doing everything they could to fix the representation problem in their companies...but also that they couldn't really do anything about it because that's just how the system works! For example, Fox:
"We price people based on their quotes, based on their role," says Gary Newman, co-CEO of Fox Television Group. "We're committed to paying people on those criteria, and we'll continue to do so."

But Newman concedes that minority actors are disadvantaged by the scarcity of opportunities to raise those quotes.
G/O Media may get a commission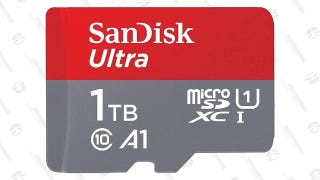 Save $75
SanDisk Ultra 1TB MicroSDXC Card
Hm. Here's NBC:
NBC Entertainment chairman Bob Greenblatt says his studio division, Universal Television, is conscious of pay equality when structuring deals.

"Whether they're overall deals or acting-fee deals or producer deals, yes," Greenblatt says. "At the same time, you can't ignore experience, and you can't just say that because someone is of a specific diversity, they're going to make 10 times more. You have to take all that into consideration."
Again, experience is probably hard to come by when the majority of the roles were simply not written for you or your so-called "specific diversity," which is a real cute term for a white man to come up with.
The other part of the pay issues stems from the general lack of roles for women and people of color. You would think that with hundreds of films and about 500 scripted television shows that there might be more room to showcase female talent and talent of color. But that's clearly not the case. The University of Southern California has done multiple studies showing just how few speaking parts in movies go to anyone who isn't a white man. In its own examination, Variety found that only 33% of the lead roles for new broadcast shows this season went to women. Only 20% went to "nonwhite or Hispanic actors." This isn't surprising—CBS just caught flak for not approving a female-led show for the second year in a row—but it's still frustrating as hell.
It's frustrating just how old and repetitive this conversation is—particularly when it's been proven over and over again that more inclusive programming is also more profitable. (Though giving people representation and equal opportunity are still the right thing to do regardless of whether or not it makes money.) But it's also frustrating that the small amount of parts offered to people of color appear to dwindle when you take Hollywood's other big, problematic beast, whitewashing, into account. The entire Variety article, which features input from Eliza Coupe, Nasim Pedrad, Susan Kelechi Watson, and Daniel Dae-Kim, definitely deserves a read. But once again, all it shows is what we already knew: Hollywood is institutionally hostile to women and people of color.