Would Donald Trump's re–election campaign really be so desperate that it would post ads on Craigslist recruiting volunteers to fill the audience at his upcoming Phoenix rally on Tuesday?
Anyone can post such things on Craigslist, so it's hard to believe Trump would be so desperate. But the fact that we have to question this, and perhaps even second–guess ourselves, is indicative of the lowly state of affairs in the White House these days. And we know how much Donald loves his crowds.

Sandwiched among listings seeking "sugar babies" and "adult house cleaners," job ads started appearing Sunday on Craigslist Phoenix seeking several "actors" for Tuesday's Trump rally, especially people of color, to "hold pro–Trump signs, cheer on command, and show diversity." The rate on one ad was $10/hour.

Activist and organizer Marcus Ferrell was the first to point the listings out on Twitter:
G/O Media may get a commission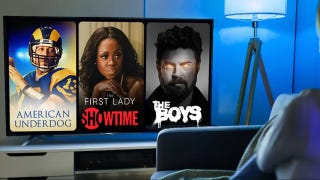 UNDER $1
99¢ Prime Video Channels

Shortly after that tweet, the Craigslist post was removed. But then another one popped up:

That one was flagged for removal, too. A third one appeared, this time in a different section:
If someone is playing a prank, or trying to set Trump up, sadly, this is a pretty simple, effective, and cheap way to do it. Because Trump has engaged in similar behavior in the past. In 2015, he was called out for allegedly violating campaign laws in the hiring of two casting agencies to contract actors to participate in the announcement of his presidential candidacy at Trump Tower.

A 2015 complaint filed with the Federal Election Commission by the American Democracy Legal Fund accused Trump and his campaign of violating campaign laws by hiring Gotham Government Relations & Communications LLC and Extra Mile, Inc. to stack the audience at Trump Tower. Trump's campaign allegedly paid Gotham $12,000 for its services, according to the complaint.

The casting call sent in an email by Gotham has similar language as the Craigslist listings, calling for actors to "wear t-shirts and carry signs and help cheer [Trump] in support of his announcement."

Whether or not it's a joke, some high–ranking elected officials do not want Trump to hold his ego–boosting political rally. Phoenix Mayor Greg Stanton pleaded with Trump to cancel the event because it would "enflame emotions" and attract violent Trump supporters and white supremacists from outside the state, The Washington Post reported. As of Friday, Trump hadn't responded to the mayor.

Arizona Rep. Ruben Gallego compared Trump's decision to hold the rally so soon after three people died in Charlottesville to "throwing tinder onto an ongoing fire."

"I absolutely think it's inappropriate to be holding a political rally a few days after an innocent woman was mowed down by a neo-Nazi," he said, according to the newspaper.