Time to practice your Mockingjay whistle: someone has filed paperwork to start a presidential campaign committee for Katniss Everdeen, the hero of the Hunger Games book and movie series.
According to the Federal Election Commission statement of candidacy filed Sunday for Everdeen, the fictional revolutionary is running as an independent. Her treasurer is "Effie Trinket," another character from the series, and her office is "101 E. Avenue of Tributes," in Denver.
It's pretty simple to fill out one of these forms, and more than 500 "people" are technically running for president. But unlike several other humorous candidacies that have made news in recent weeks—notably "Deez Nuts," who got 9% in one poll—Everdeen has a track record of (spoiler warning) defeating establishment politicians.
Her rhetoric sounds like it could come straight from a Bernie Sanders or Elizabeth Warren speech: "The deck is stacked in the favor of the powerful, student debt skyrocketing, America's enemies multiplying, we need strong leadership and we need a Revolution," declares the Everdeen 2016 website, made with the free service Weebly. (There's even a page for internships.)
G/O Media may get a commission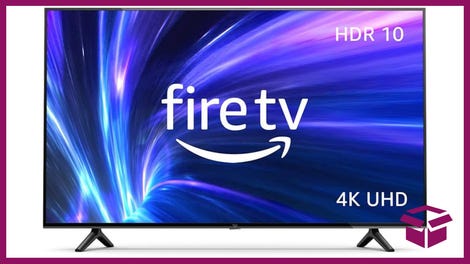 42% Off
Amazon Fire TV 50" 4K Smart TV
It appears that the campaign is less a viral marketing attempt leading up to the release of Mockingjay: Part Two later this year and more the work of a devoted fan. The campaign manager listed on the FEC form is Jack Holland, who writes a very, very extensive Hunger Games fan fiction blog.
When I emailed the address associated with the campaign committee, I received a response from "Plutarch Heavensbee," another character from the books and movies, who referred me to a blog post by Katniss.
Here, the Mockingjay seems to channel Black Lives Matter along with Sanders and Warren: "Minorities still get jailed all to [sic] frequently and many remain trapped in the lower rungs. The top of the ladder remain at the top while the everyday Americans at the bottom remain trapped there."
(I'll update if I hear more from "Plutarch.")
One possible issue for the nascent Everdeen campaign is that you have to be 35 years old to be president. (Katniss is a teenager in the books and movies.)
And then, you know, there's also the fact that she's a fictional character.
Casey Tolan is a National News Reporter for Fusion based in New York City.