For the third time in just over two months, Eastern Michigan University has been scarred by racist graffiti targeting black students.
On Monday, EMU officials confirmed that the school's Ford Hall had been defaced with the words "Leave Niggers" by an unidentified culprit. In a letter to the campus community, University president Jim Smith said he was "deeply angry and saddened" at the graffiti, describing it as "counter to the values and mission of the University." According to Smith, the words were removed shortly after having been discovered.
This is, in fact, the second time the words "Leave Niggers" have been sprayed across an EMU building in recent months. On September 20, the same words were found on the campus' King Hall, alongside the letters "KKK" painted in red, white, and blue. That incident was denounced as a "racist and thoughtless act," by Smith, and prompted a protest of approximately 150 people, the Detroit Free Press reported. The day after the initial message was found, a second slur was reportedly discovered written in a university building stairwell.
The weekend after the initial two instances of graffiti, EMU students staged a mass protest following their school's 27-24 victory over the University of Wyoming, which was picked up and televised by CBS sports.
G/O Media may get a commission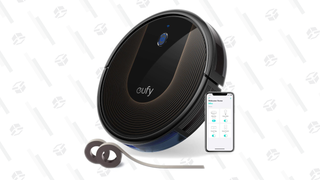 48% Off
Eufy BoostIQ RoboVac
In response to September's vandalism, EMU issued a reward for information—one that's been steadily growing as time goes on: First $2,500, then $5,000, and now, following this latest incident, $10,000. The school is also soliciting input for a planned "day-long teach-in on racism, diversity and inclusion" scheduled for mid-November, and had launched a website featuring a timeline of the incidents, as well as listing the concrete steps EMU has taken to address the problem.
Despite the administration's determination to end the spate of racist graffiti, however, students at EMU are understandably worried over the disheartening turn their school has taken in recent months.
"When you create a toxic environment with hateful speech like that, ya know, people don't feel comfortable," Justin Stovall told news outlet WXYZ. "People don't feel safe or they're on the opposite spectrum, they're angry, they're upset and they're not able to think straight because they're so upset about what's going on."
"I think its important to look at all the allies across the university no matter their race or ethnicity," Assistant Vice President of Student Well-Being Ellen Gold told the school's Eastern Echo newspaper. "We need to begin to create a comrade of allies that we can go to made up of faculty, students, staff and administration.We need a comprehensive plan so that we don't look disjointed. This is just a starting point"