Nothing shows your allegiance to President Donald Trump quite like handing over your own cold hard cash to help him build his widely loathed, near-impossible campaign promises.
That's what more than 13,000 people have done over the last two days, donating more than $800,000 to a GoFundMe campaign launched by Brian Kolfage, a veteran and triple amputee, which is well-timed given the news that Trump isn't likely to get the government to fund his wall anytime soon.
"As a veteran who has given so much, 3 limbs, I feel deeply invested to this nation to ensure future generations have everything we have today," Kolfage wrote on the campaign page. "Too many Americans have been murdered by illegal aliens and too many illegals are taking advantage of the United States taxpayers with no means of ever contributing to our society."

Kolfage's campaign launched two days after the New York Post's Michael Goodwin asked the question, "Why hasn't someone made a GoFundMe for Trump's wall?"
According to math submitted by one Post reader and repeated, uncredited, on Kolfage's GoFundMe page: "If the 63 million people who voted for Trump each pledge $80, we can build the wall." Many of the donations on Kolfage's campaign are for far lower amounts, but there are also donations all the way up to $5,000 from an anonymous donor.
G/O Media may get a commission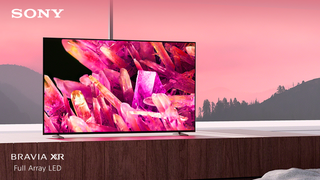 $400 off
Sony 55 Inch 4K Ultra HD TV X90K Series
In an email to Splinter, Kolfage called his GoFundMe a "common sense" solution to a problem Trump cares very much about.
"We have been talking to a few politicians on the best way to achieve a handoff. It's been done before, in 2012 a private donor gave the US Govt $7.5M to fund half of the Washington Monument earthquake damage. Its common sense, since when do we tell Americans where they can spend their money?" Kolfage said. "If they want to give money to something, whether a charity, friend or even a homeless person, do we stop them? If people want to give the U.S. Government money to fund an infrastructure project, why say no?"
The campaign feels scammy at face value—rallying Trump voters for a multi-billion government project sounds unfeasible at best—so Kolfage put his personal email on the page, so donors can "contact me and hold me accountable." And should he not meet his $1 billion goal—which he says on the page is currently the maximum the site allows, although he's "working to get it raised"—donations will be refunded.
But when pressed, Kolfage said he didn't want to get into the "politics" of building a huge wall at the Southern border.
"I'm not getting involved in [the] politics of the wall, Americans want it, and I'm organizing 'the people' to achieve it," he told Splinter.
Even if you discount this remark for being patently untrue—Trump's wall is deeply unpopular, and a majority of Americans don't want it—you're still throwing your lot in with Trump's love for stricter immigration, which is "politics" enough.