It's graduation season and we all know what that means. A slew of commencement speeches from celebrities and politicians packed with cringeworthy words of supposed wisdom.
Granted, if there is ever a time to indulge in a Hallmark card-worthy address, graduation is surely it. But, really. Telling graduates to try to avoid getting a "regular job" isn't very helpful or realistic, considering most people with a newly minted diploma in this economy are hoping for a job - any job - that will keep them off their parents' couch. And what the hell does "make your break" actually mean? Get lucky? Thanks. Solid advice right there.
From our cynical newsroom to you, here are nine useless-if-warm-and-fuzzy 2014 graduation speech nuggets in no particular order and one very practical, very straightforward bit of advice from none other than Sandra Bullock as a palate-cleansing chaser. Enjoy.
1. Actor Rainn Wilson (University of Southern California, Los Angeles, California)
"Happiness is so fleeting — it's like an amusement park ride. It's like cotton candy. I mean, it looks amazing, it's delightful, and fluffy and pink. You joyously eat it and almost immediately regret your decision. Your fingers are sticky, you're in the rest of the day and you're undergoing an almost immediate insulin crash from the half-pound of sugar you just sucked down, and you're hungry again almost immediately…It's inside of us. It's a choice that we make."
G/O Media may get a commission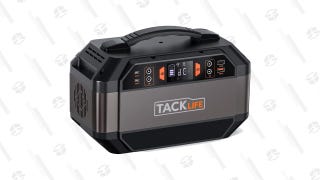 Tacklife Portable Solar Generator
Watch the speech here.
2. Comedian Jay Leno (Emerson College, Boston, Massachusetts)
"Try not to get a regular job. When you have a regular job, you wind up acting like regular people. And if you graduated from here, you are not a regular person."
Watch the speech here.
3. Quarterback Peyton Manning (University of Virginia, Charlottesville, VA)
"Shake it up. Be the ones to throw open the shutters and let a little fresh air in."
Watch the speech here.
4. Rapper Sean Combs (Howard University, Washington, District of Columbia)
"You will change the world. Let that sink in. You will change the world. I want you to take the craziest dream you ever had, that dream that you were too embarrassed to tell anyone about, and I want you to go after it. I want you to make it a reality. I don't want you to dream. I want you to do."
Watch the speech here.
5. White House Senior Adviser Valerie Jarrett (Pomona College, Claremont, California)
"Do you have the courage to succeed in the real world?"
Watch the speech here.
6. Actor Charlie Day (Merrimack College, North Andover, Massachusetts)
"Don't wait for your break, make your break. Go make it happen for yourself."
Watch the speech here.
7. Musician Grace Potter (St. Lawrence University, Canton, New York)
"We're all gonna walk over this threshold and feel a change."
Watch the speech here.
8. NFL Quarterback Alex Smith (University of Utah, Salt Lake City, Utah)
"Failures and setbacks are inevitable for all of us. I encourage you to embrace the challenge of your own imperfection. Embrace your journey toward your own potential."
Watch the speech here.
9. Musician John Legend (University of Pennsylvania, Philadelphia, Pennsylvania)
"The key to success, the key to happiness, is opening your mind and your heart to love."
Watch the speech here.
And finally:
10. Actress Sandra Bullock (Warren Easton Charter High School, New Orleans, LA)
"Do not pick your nose in public."
Watch the speech here.
Andy is a graphics editor and cartoonist at Fusion.
Emily DeRuy is a Washington, D.C.-based associate editor, covering education, reproductive rights, and inequality. A San Francisco native, she enjoys Giants baseball and misses Philz terribly.