The New York state primary is tomorrow, and allegations against Governor Andrew Cuomo continue to surface. Just earlier today, the New York Post released what they called a "smoking gun" email alleging that people in Cuomo's camp had asked reporters to write about debunked claims that challenger Cynthia Nixon was anti-Semitic. This was before a mailer from New York Democrats sent to Jewish neighborhoods last weekend made similar claims about Nixon. Cuomo said his campaign had no connection to the mailer.

Cuomo's protests that he wasn't involved are looking less and less legitimate. In a second story today, the Post reports that Democratic sources say Cuomo's closest advisors, including his former top aide Larry Schwartz, drafted and approved the mailer.
"Schwartz was very involved with the mailer and signed off on it," the source told the Post. They described Schwartz as Cuomo's "henchman" and "enforcer."
In response to the new reporting from the Post, Cuomo's campaign says that Schwartz only saw the "positive" parts of the mailer.
"Larry Schwartz who serves on our campaign in a volunteer capacity was reviewing mail pieces in an ad hoc fashion, but he only saw the positive section of the mailer and never saw the negative section," Cuomo campaign spokeswoman Lis Smith told the Post. "Had he seen it, it would have never gone out."
G/O Media may get a commission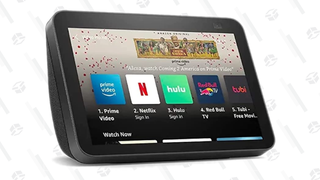 Schwartz has known Cuomo since the '90s, when they worked on his father Mario Cuomo's failed reelection campaign for a forth term as mayor together. After working in Cuomo's gubernatorial administration, Schwartz was appointed to the board of the MTA in 2015.
"We all know that Larry is the person closest to the governor and he doesn't do anything without the Cuomo's knowledge," a transit source told the Post. "It's similar to a criminal cartel where they only communicate verbally to a handful of trusted people, of which Larry is one."
"Schwartz has been much less involved with the MTA this summer as he's shifted his focus to Cuomo's campaign," another source said. "He was even in the room to help the incumbent prepare for his one debate against Nixon."
Sources told the Post that though the campaign named staffer David Lobl as the author of the mailer, that doesn't tell the whole story. The source described Lobl as the "fall guy." "The real story is the campaign did this," they said.