An explosive piece of investigative journalism from the New York Times today looks inside the workings of Southwest Key, the charity that houses many of the unaccompanied minors who are currently inside the U.S. at an archipelago of 24 shelters across the country. The Times story focuses on Southwest Key founder Juan Sanchez, who rose out of poverty to become a powerful businessman and entrepreneur, and who casts himself as a savior to troubled Latinx youth.

This selfless narrative is disrupted by Sanchez' own take from the supposedly charitable endeavor. As the need for housing migrant youth has grown, so has Sanchez paycheck—last year he made $1.5 million, up from $279,000 in 2012.
His business practices can be a bit shady as well. About ten years ago, Southwest Key began operating for-profit businesses that work on the charity's projects, essentially funneling money back into Sanchez and his fellow executives pockets. These include several charter schools in the Austin, TX area.
From the Times:
Martha Cotera, a school board member and friend of Mr. Sanchez, said she had grown suspicious over school spending, mostly because the board was given no choice about awarding work to Southwest Key for-profits.

"They were sold to us as economic development enterprises for the community, but I saw that as very self-serving," Ms. Cotera said.

The businesses have charged the two Austin schools more than $4.4 million for food, maintenance and janitorial services since 2009. The charity has also charged the schools more than $6.3 million in rent and unspecified services.
G/O Media may get a commission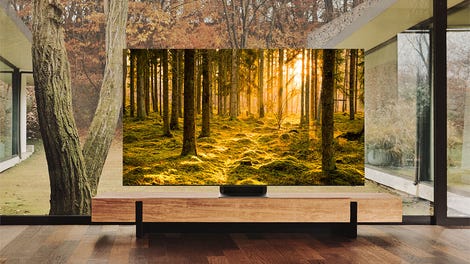 Up to 40% off
Samsung Smart TVs
Many of the Southwest Key shelters are located on properties rented by the charity but owned by Sanchez, a fact that was only made public after the Times asked about the arrangement as part of its investigation. To make this arrangement work, some, uh, interesting business practices have been necessary.
The organization, sitting on $61 million in cash as of last fall, has lent millions of dollars to real estate developers, acting more like a bank than a traditional charity. It has opted to rent shelters rather than buy them, an unusual practice that has proved lucrative for shelter owners — who include Mr. Sanchez and the charity's chief financial officer.

Marcus Owens, the former head of tax-exempt organizations for the Internal Revenue Service under both Republican and Democratic administrations, reviewed Southwest Key's tax returns for The New York Times. Regulators, he said, seemed to be "asleep at the switch." Describing the financial dealings of Mr. Sanchez and his colleagues, he said, "I think the word is 'profiteering.'"
In the last year, Southwest Key has faced multiple accusations about poor conditions and abuse in their shelters. The charity been scrutinized for keeping children in allegedly inappropriate conditions inside a former Walmart, their largest capacity shelter. There have also be incidents of reported sexual assault and molestation at their shelters, involving children as young as 6. One HIV-positive man was charged with molesting 8 children.
Yet Sanchez is still making millions off his charity and related businesses, and is paying at least eight of his employees more than the federal salary cap of $187,000, according to the Times. His wife, Jennifer Sanchez, is making a salary of $500,000.
Robert Carey, a former director of the Office of Refugee Resettlement during the Obama administration, told the Times that he found the salaries "appalling."
"When you think of how those funds could be used and should be used, it doesn't sit well," Carey told the Times.