Indiana Pacers center Roy Hibbert's struggles have been well documented at this point. During the regular season, the All-Star has averaged just 8.5 points and 4.1 rebounds on 34% shooting since March 11. He's been even worse since the playoffs began. His averages have dipped to 4.6 points and 3.3 rebounds. There has been much speculation as to the source of his troubles. The mid-season signing of noted headcase Andrew Bynum, the overzealous play of teammate Lance Stephenson, and the trade of resident "big brother" Danny Granger are just a few. However, there is one possible explanation to Hibbert's troubles that has not yet been explored. It involves team president Larry Bird and and the 1996 film Space Jam.
This story begins in the fall of 1974, just a month into the school year, when a 17-year-old Larry Bird dropped out of Indiana University and returned to his home in French Lick, Indiana. Bird gave up playing basketball on a national stage seemingly without reason. It would be a year before he formally began his basketball career at Indiana State University.
At the same time, during the 1974-75 NBA season, a handful of NBA stars missed significant time due to injury, many for the first time in their career. First-overall pick in the 1974 draft and future Most Valuable Player Bill Walton played just 35 games that season. 1973-74 NBA Rookie of the Year Eddie DiGregorio played just 31. All-Star guard Lou Hudson only suited up for 11.
Meanwhile, in Gurnee, Ill., the Marriott Corporation was hard at work on the first Six Flags Great America with the hopes that the Looney Tunes would act as mascots for the park once it was ready to open. The Tunes would, in fact, make their first appearance shortly after in 1976.
Flash forward to 1996. Larry Bird is retired and spends his days playing golf with friends Michael Jordan and Bill Murray on the set of Space Jam. One day, the three men are playing golf when Jordan is suddenly sucked down a golf hole. Jordan's assistant, Stan Podolak, looks distraught. Bill Murray is visibly and audibly upset. But Bird? After Michael disappears, it takes Larry a full thirteen seconds before sheepishly asking "Where'd he go?" Bird sounds unsurprised, almost bored by the bizarre event he's just witnessed.
G/O Media may get a commission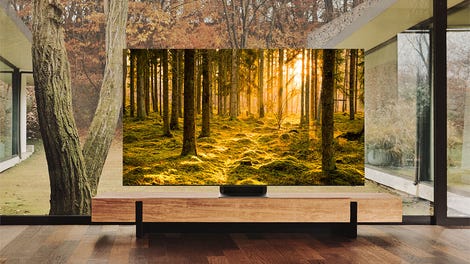 Up to 40% off
Samsung Smart TVs
That's because he's not surprised. Bird knows exactly what is happening. He's lived it before.
Before we continue, consider the following:
1. After Jordan is sucked down the golf hole, Bird does nothing. The authorities certainly aren't called, despite the fact that one of the most famous people on the planet has just vanished.
2. **SPACE JAM SPOILER ALERT** Later, as Jordan fends off the Monstars in a basketball game that will determine the Looney Tunes' freedom, who should show up in the middle of the game but Bill Murray, already clad in a Tunes Squad uniform.
3. Later still, Bird and Murray sit together at a Chicago Bulls game, Jordan's first in his return to the NBA. Neither mention anything about what happened in Looney Tune Land.
Bird does nothing because he already knows Jordan is headed for Looney Tune Land. He knows he will be playing the Monstars, which is why he eventually loans Bill Murray his old Tunes Squad uniform. Yes, HIS old uniform.
There are just too many "coincidences" to ignore what is obvious at this point. This isn't Larry's first Space Jam (the event, not the film).
Bird didn't drop out of school in 1974 at all. Like they would with Michael Jordan decades later, Bugs Bunny, Daffy Duck, and friends enlisted the help of Bird to battle the Monstars of yesteryear, equipped with the "powers" of the aforementioned Walton, Hudson, DiGregorio, and more. They needed Bird to save them from being enslaved by the Marriott Corporation to appear free-of-charge at their first Six Flags theme park.
And the plan worked! The very fact that Larry Bird returned to school for the 1975-76 school year and wasn't forced to also become a Looney Tune is proof enough of that (one of the bylaws of participating in a Space Jam mandates that any member of the Tunes Squad must join his fellow Tunes in theme park slavery if they lose the game). Meanwhile, the Looney Tunes began making paid appearances at Six Flags in 1976. Walton, Hudson, DiGregorio, and the rest of the players who had their powers stolen by the Monstars went back to the NBA.
Exactly twenty years later, with Bird retired and out of the way, the Monstars returned and history repeated itself with the events depicted in the film Space Jam. The Monstars were again defeated, and this time not only did the Looney Tunes get paid, they got stock options; Six Flags went public in 1996. Interesting timing.
That brings us to 2014, almost 20 years since the last incident. Coincidentally, Bird's Indiana Pacers happen to be mired in a slump surrounding Roy Hibbert, whose "powers" suddenly seemed to have mysteriously been stolen for the better part of the current NBA season. At the same time, there has been talk of another Space Jam film. Oh yeah, and Six Flags itself is in a bit of corporate turmoil, having declared bankruptcy within the last five years and is currently operating without a Chief Operating Officer.
Luckily, we are likely still at least another couple of years away from a third Space Jam. In Game 2 of the Pacers playoff series against the Washington Wizards Wednesday night, Hibbert broke his slump, tallying 28 points, 9 rebounds, and 2 blocks to lead Indiana to victory and tie the series at one game apiece. That being said, with all of the other warning signs in place, we would all be best served to keep a close eye on the performance of Hibbert for the rest of these playoffs, not to mention what current NBA stars Larry Bird keeps in his inner circle that could also conceivably fit down a golf hole.