As you no doubt know by now, Prince Harry, soon-to-be sixth in line to the throne of the United Kingdom (and better known as "the hot one") and American actress Meghan Markle announced their engagement earlier today. Royal weddings are always both exciting and exhausting, somehow finding fairy-tale style magic in the most boring of traditions.
Obviously not everyone is going to be thrilled—it's the monarchy, after all!—but CNN's Chris Cuomo seemed to find American interest in royal weddings downright offensive to democracy. This morning on New Day, Cuomo shared these tiresome thoughts on UK royalty:
I'm an American! We don't have royalty in this country. We have lots of love. Sometimes we have to search to find it, but I'm an American. So this fascination with royalty, which is anathema to what our democracy is all about, has always boggled my mind a little bit.
First, if you don't think we have royalty in America, who the hell do you think Jay Z and Beyoncé are? Second, I don't know what the search for love has to do with being American unless we're talking about the great American tradition of love known as The Bachelor and The Bachelorette. Third, it should be noted that most Americans' obsession with the royal family and their nuptials has far more to do with the wedding itself than it does the (admittedly obsolete) monarchy. Kim Kardashian's 2011 wedding to Kris Humphries was the most-watched televised event on E! to date, and Say Yes To the Dress has been a thing for 15 seasons. Americans love weddings.
More than that, Markle herself is what makes the wedding so fascinating. Of course, Americans finally have some skin in the royal wedding game because she's American, but Markle being a woman of color and becoming the first black member of the British royal family (in 2017—they're just now okay with it!)—is a legitimately huge deal! That she is divorced and Catholic (members of the royal family were forbidden to marry Catholics until 2015) also show some degree of progress for the royal family, although the racist and sexist harassment Markle has already received shows that the UK has quite a way to go anyway.
G/O Media may get a commission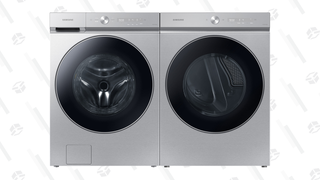 Get $500 back in credit
Last Chance: Samsung Bespoke AI Washer and Dryer Preorder
To be fair, Cuomo did give Harry the benefit of the doubt:
But I know this: Harry is a good man. He really focuses on those Invictus games. He's really used his power, as ersatz as it may be, to do the right thing. So good for him. Any positive news is good news right now.
So sure, maybe royal weddings are a waste of money celebrating impotent figureheads. And sure, the "controversy" definitely would have been more serious if Harry had a real shot at actually sitting on the throne. But it's hard to ignore that Meghan Markle becoming a royal really is historic and exciting—no matter what the Chris Cuomos of the world have to say.