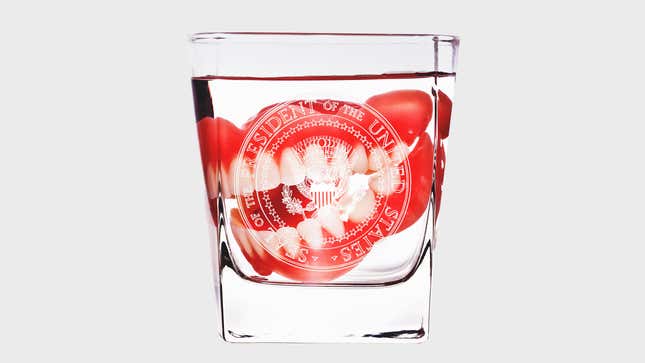 In these United States of America, an aspiring public servant/lunatic must be a minimum of 35 years old in order to run for president. It says so in the frickin' Constitution. We have a minimum age and yet....no maximum age. Hmmmm. Interesting. Our current president was 70 years old when he began his tenure—which is the oldest of any first term president U.S. history (though Ronald Reagan has him beat for oldest prez ever elected—he was 73 when he started his second term).

As we look ahead toward 2020, the question of age is looming as large as our own inevitable mortality. Among the potential democratic candidates are Joe Biden (76), Bernie Sanders (77), Elizabeth Warren (69) and Michael Bloomberg (76). If reelected, Trump will be 74 when he starts his second term, and will be pushing 80 on his way out. Now, to be clear, we're not questioning anyone's cognitive abilities here—OK we might be, though NOT on the basis of age. Some might argue that the sheer premise of this story is ageist, but being president is (theoretically) an incredibly taxing job! To question whether we ought to have an age cap on candidates isn't designed to disparage the old, but to take a long hard look at the job at hand. If the rules say a 34-year-old can't do it, it's worth asking: can an 80-year-old?
I asked the Splinter staff what they thought about a possible maximum age for a president at the start of his or her first term. And yes, we know people are living longer, we have taken that into account, please do not @ us about that. The planet will be decimated in 50 years, so who cares. Anyway, here's what my beloved colleagues had to say:

Me, Caitlin Schneider: 65
Jack Mirkinson: 67
Aleksander Chan: 65
Katherine Krueger: 69 obviously, but in reality like 45.
Rafi Schwartz: 67 seems right. people living older now. i was gonna say 70, but Trump was elected at 70.
Samantha Grasso: as someone w 60yo parents I say 62
Hamilton Nolan: 65. should not be a min age. should be the same as voting age.
Nick Martin: 67 sounds right. puts the cap at 75.
Jack Crosbie: 65
Libby Watson: i would EITHER: have no cap, but also reduce the lower limit from 35 to 18 to make it truly fair OR set it at 75. i know that's older, but we have an aging population and i think there's democratic value in representing older people as well as younger people, despite their largely horrible views.
Molly Osberg: i feel like 50. young country, young presidents only.
As a staff, we disagreed about the general concept of exclusion on the basis of age, but one thing we mostly agreed on: absolutely no teenage presidents. That said, we also wouldn't mind lowering the minimum age requirement to 25 years old. Teens are idiots, but there are some good 25 year olds out there. Also a point of consensus? Annual cognition testing, which should be done by an independent party!!! If we had that, it would solve a lot of problems. Specifically, our current one.