Tucker Carlson, the white nationalist cable TV boy we know and love, may finally be running out of luck. Sponsors are pulling out of his show Tucker Carlson Tonight after a particularly repugnant segment on immigration last week, in which he said mass migration would make the U.S. "poorer, dirtier, and more divided." These comments spurred a social media campaign by Media Matters for America's Andrew Lawrence and progressive activist Jordan Uhl, who began messaging companies, asking if they'd drop their sponsorship of the show. The call was retweeted by liberal figures with large followings like producer Judd Apatow and actors Zach Braff and Debra Messing.

Others announced they would boycott any companies who wouldn't disavow Carlson.
Since then, Pacific Life Insurance and SmileDirectClub have all either temporarily or permanently pulled their advertisements from the show, according to Jeremy Barr at The Hollywood Reporter. Today, Bowflex became the fourth sponsor to pull their ads.
From the Reporter:
"We can confirm that Nautilus, Inc., parent company for Bowflex, has pulled its ads from the Tucker Carlson Tonight show," the company said. "We buy media broadly across many news networks, and do not target ads based on specific programs or hosts. However, we have requested that Fox News remove our ads from airing in conjunction with Tucker Carlson Tonight in the future. Aside from our decision to remove our ads from his show, we have no other association or affiliation with Mr. Carlson."
G/O Media may get a commission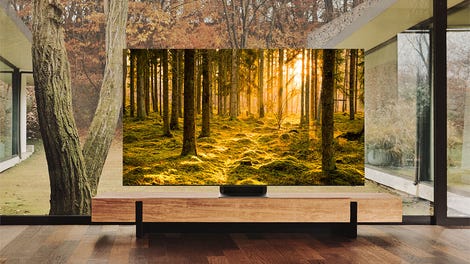 Up to 40% off
Samsung Smart TVs
Activists decided to target Carlson him because his show gives voice to specific white nationalist ideas like "white genocide" and the dangers of MS-13.
"Tucker Carlson serves as a mouthpiece for white nationalist talking points every night during prime time," Uhl told Splinter in a direct message on Twitter. "By advertising on his show, companies are complicit in normalizing hateful ideas that inspire the likes of David Duke and manifest as real, tangible hate throughout America."
Of course, none of the companies who have taken action are willing to come out and say what exactly it is about Carlson they find so distasteful. Some of them even suggested it wasn't a problem with his show, but with political programming in general.
"We are actively working with our media buyers to confirm that SmileDirectClub is no longer running our ads around any political opinion shows," a spokesperson for SmileDirectClub, an outfit that sells clear teeth aligners, told the Reporter.
Indeed.com, a job search site, told the Reporter that they had already cancelled their advertising on the program. "As a company, we are nonpartisan—our site is for everyone, regardless of background or beliefs. Indeed has not advertised on the Tucker Carlson Tonight program in over a month, and has no plans to do so in the future," a spokesperson said in a statement.
Others gave statements about the importance of "diversity."
"As a company, we strongly disagree with Mr. Carlson's statements," Pacific Life Insurance spokesperson told the Reporter. "Our customer base and our workforce reflect the diversity of our great nation, something we take great pride in. We will not be advertising on Mr. Carlson's show in the coming weeks as we reevaluate our relationship with his program."
Fox News, of course, is not happy. They painted the campaign as an attempt by the left to "stifle free speech."
"It is a shame that left-wing advocacy groups, under the guise of being supposed 'media watchdogs,' weaponize social media against companies in an effort to stifle free speech," the channel said in a statement. "We continue to stand by and work with our advertisers through these unfortunate and unnecessary distractions."
On Carlson's show last Friday, he seemed to backtrack on some of his comments during yet another segment on the migrant caravan, according to the Washington Post.
"The reason we keep going back to this topic, and let me just stipulate, as I have before with you, that I — I like immigration. I like immigrants. I give every person in the caravan the benefit of the doubt. I think most really do want to come here for a better life," Carlson said.
Sure you do, Tucker.
Update, 8:10 pm: NerdWallet has announced that they will pull sponsorship from Carlson's show as well. "Whenever we receive feedback about advertising on specific programs, we evaluate it on a case-by-case basis. If our review determines that a certain show's content doesn't align with our company values, we take commensurate and appropriate action," a spokesperson for the finance website told the Reporter.
Update, 10:05 pm: Minted, an online marketplace for design, has said it will no longer run ads during Carlson's show.
Update, 10:10 pm: Mitsubishi and Farmer's insurance have stuck with Carlson, The Daily Beast reports.
"Farmers invests in advertising across a broad range of networks and programs that reflect the diversity of opinions and viewpoints found across the nation," Farmers Insurance said in a statement to The Daily Beast. "Advertising decisions made by Farmers should not be construed to be an endorsement of any kind as to a show's content or the individuals appearing on the show."
"Our advertising media spend is determined based on demographics and psychographics, not politics," a Mitsubishi company spokesperson told The Daily Beast. "Our strategic marketing intent is to share our key product news with consumers through a variety of media channels. We will monitor the situation and adjust our advertising if necessary."
During Carlson's show Monday night, he shot back at activists who are pushing his advertisers to boycott the show.
"We're not intimidated," Carlson said. "We plan to try to say what's true until the last day. And the truth is unregulated mass immigration has badly hurt this country's natural landscape."