Stacey Abrams, last year's Democratic nominee for governor of Georgia who came frustratingly close to becoming the first black woman elected governor of any state in America, took a trip to Washington, D.C. this week to meet with Democratic party leaders, who are reportedly encouraging her to run for Senate in 2020.

To be clear: This is good. Stacey Abrams should run for absolutely any office in the state of Georgia that she deems fit, because her outspokenly progressive campaign for governor channeled a sense of excitement that no other Democrartic statewide candidate in Georgia has seen in years. Does she want to run for Senate, though? Maybe.
Per the Atlanta Journal-Constitution, Abrams is still mulling things over:
She's given herself until the end of March to decide whether to run against Perdue, one of Donald Trump's staunchest allies, or prepare for what could be a rematch in 2022 against Kemp. In a Monday interview on WABE, she outlined three criteria to help make that decision.

"One, I need to run for office because I'm the best person for the job, not simply because there's a job that's open. No. 2, I need to run because I have ideas and the capacity to win the election and do the job well," she said.

"And No. 3, I need to make decisions not based on animus or bitterness or sadness, but really based in a pragmatism that says, 'This is the right thing to do.'"
Abrams met separately with Democratic Senate Minority Leader Chuck Schumer and Nevada Sen. Cortez Masto, who runs the Democratic Senatorial Campaign committee, the Journal-Constitution reported, so it's pretty obvious what seat they want her for. The choice, of course, is between taking a run at Georgia Sen. David Perdue's seat (which is up in 2020) and gearing up for another contest with Brian Kemp in 2022. Either way, she's got a great shot.
Abrams' run for governor is the closest a Democrat's come to that office since 2002, and she lost in a large part due to a wildly corrupt, potentially fraudulent effort by Kemp to do everything he possibly could to disenfranchise and suppress black voters, who overwhelmingly went for Abrams.
G/O Media may get a commission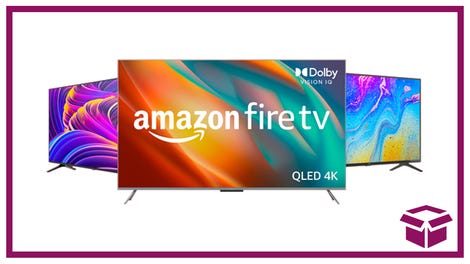 Ooh. stunning.
New Amazon Fire TVs
It was almost a given that Abrams would be back. She definitely has the grassroots support to mount a substantial campaign against whichever of the abominable GOP dudes she chooses to run against. Perdue is a former Dollar General CEO who's strongly anti-abortion, anti-immigration, and voted to overturn the Affordable Care Act. And Kemp is, well, Kemp.
Until then, Abrams has plenty to do. Per the AJC:
She has since launched the Fair Fight Action voting rights group, which promptly filed a sweeping lawsuit challenging the state's electoral policies. She's emerged as the party's de facto leader, a queenmaker in Georgia Democratic circles whose top allies are set to take prominent roles.

And this week, she made two decisions that aim to maintain her high profile and keep her supporters engaged. She endorsed state Sen. Nikema Williams' bid to head the state party. And she gave campaign contributions to every Georgia legislator through her new group's PAC.
Finally, a potential 2020 candidacy to be excited about.