Though the Chinese and Vietnamese toymaking industries have been stuck in something of  a slump recently, U.S. demand for Star Wars merchandise is single-handedly perking up the markets ahead of The Force Awakens's premiere next month.
Before summer, global shipments of toys from both China and Vietnam were consistently lower than average, but by the end of the year, the number of toys imported from Asia are expected to increase by nearly 11%.
According to Bloomberg, China's overall toy output has decreased for most of the year so far before spiking by 13% after the first wave of orders for new merchandise. The story is similar in Vietnam where toy exports abroad have risen by 28%.
The reason behind the sudden rise in demand is partially due to natural interest and excitement about the upcoming movie, but it also has a lot to do with how Disney is pushing merchandise.
G/O Media may get a commission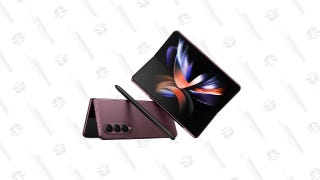 Save Up to $300
Galaxy Z Fold4
In the weeks leading up to The Force Awakens, American retailers across the country have participated in "Force Fridays," a series of scheduled releases of new toys, clothes, and Star Wars tie-ins meant to build hype around the movie.
Now if only more of those toys being cranked out just to happened to feature Star Wars's female characters.
Fusion is partly owned by ABC, a member of the Disney family.