Update, Sunday, 8:35 a.m.: Starbucks CEO Kevin Johnson released a statement calling the arrests at a Philadelphia store this week "reprehensible" and "disheartening," and vowed to offer the two men who were racially profiled a "face-to-face apology" (see the full statement below).
According to BuzzFeed, the two men, whose names haven't been released publicly yet, were arrested for "defiant trespassing." However, the local district attorney declined to file charges, and they were released at 2 a.m. on Friday.
A lawyer said to be representing the men, Lauren Wimmer, wrote on Twitter: "The video speaks for itself. What took place at the 18th and Spruce #Philly @Starbucks was reprehensible. Two young black men, who were simply waiting to be joined by a friend, were blatantly discriminated against based on their race. Not only is this inexcusable, it's illegal."
Philadelphia Mayor Jim Kenney also weighed in, saying he is "heartbroken" and would order the city's Commission on Human Relations to investigate Starbucks' procedures, BuzzFeed reported.
G/O Media may get a commission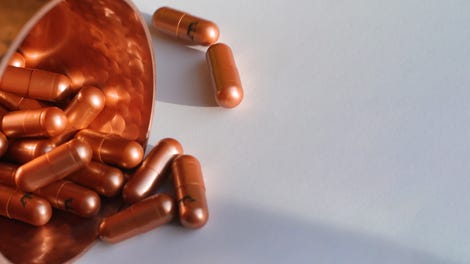 health
The Lyma Supplement
"Like all retail establishments in our city, Starbucks should be a place where everyone is treated the same, no matter the color of their skin," Kenney said.
Starbucks CEO Kevin Johnson wrote:
Starbucks ceo: Reprehensible outcome in Philadelphia incident

Dear Starbucks Partners and Customers:

By now, you may be aware of a disheartening situation in one of our Philadelphia-area stores this past Thursday, that led to a reprehensible outcome.

I'm writing this evening to convey three things:

First, to once again express our deepest apologies to the two men who were arrested with a goal of doing whatever we can to make things right. Second, to let you know of our plans to investigate the pertinent facts and make any necessary changes to our practices that would help prevent such an occurrence from ever happening again. And third, to reassure you that Starbucks stands firmly against discrimination or racial profiling.

In the coming days, I will be joining our regional vice president, Camille Hymes—who is on the ground in Philadelphia—to speak with partners, customers and community leaders as well as law enforcement. Most importantly, I hope to meet personally with the two men who were arrested to offer a face-to-face apology.

We have immediately begun a thorough investigation of our practices. In addition to our own review, we will work with outside experts and community leaders to understand and adopt best practices. The video shot by customers is very hard to watch and the actions in it are not representative of our Starbucks Mission and Values. Creating an environment that is both safe and welcoming for everyone is paramount for every store. Regretfully, our practices and training led to a bad outcome—the basis for the call to the Philadelphia police department was wrong. Our store manager never intended for these men to be arrested and this should never have escalated as it did.

We also will further train our partners to better know when police assistance is warranted. Additionally, we will host a company-wide meeting next week to share our learnings, discuss some immediate next steps and underscore our long-standing commitment to treating one another with respect and dignity. I know our store managers and partners work hard to exceed our customers' expectations every day—which makes this very poor reflection on our company all the more painful.

Finally, to our partners who proudly wear the green apron and to customers who come to us for a sense of community every day: You can and should expect more from us. We will learn from this and be better.

Respectfully,

Kevin Johnson

ceo
Meanwhile, another hashtag is making the rounds on Twitter: #StarbucksWhileBlack.
Original post continues here:
Starbucks Coffee is facing public calls for a boycott after witnesses said two African American men were arrested this week at a Philadelphia store because of their skin color. Store employees said the men were trespassing because they hadn't purchased anything.
As the hashtag #BoycottStarbucks continues to gain momentum following the Thursday arrests, a weakly worded apology by the company on Saturday only exacerbated public outrage.

A video of the arrests posted on Twitter on Thursday already has been viewed nearly 4 million times as of this writing. According to Melissa DePino, who posted it, "The police were called because these men hadn't ordered anything. They were waiting for a friend to show up, who did as they were taken out in handcuffs for doing nothing. All the other white ppl are wondering why it's never happened to us when we do the same thing."

DePino added later that the men are "real estate brokers and were at Starbucks to meet their family friend."

The Starbucks apology, shared on social media, stated:

"We apologize to the two individuals and our customers and are disappointed this led to an arrest. We take these matters seriously and clearly have more work to do when it comes to how we handle incidents in our stores. We are reviewing our policies and will continue to engage with the community and the police department to try to ensure these types of situations never happen in any of our stores."
On Facebook, Philadelphia Police Commissioner Richard Ross responded to the arrests, which occurred at the Starbucks store on 18th and Spruce streets, by saying, "I know there is a lot of concern and a lot of attention being spread around an incident that happened here…Police received a 911 call for a disturbance and trespassing. When the police arrived they were met by Starbucks employees who said that two males were trespassing and had refused to leave the establishment."

Ross added that the men had asked to use the restroom, but the company doesn't allow "non–paying people of the public to come in and use the restroom." He said officers asked the men to leave before arresting them. An internal investigation by the police department found that responding officers acted appropriately, he said.

"As an African American male, I am very aware of implicit bias. We are committed to fair and unbiased policing, and anything less than that will not be tolerated in this department," he added.

Some gathered outside the store on Saturday to protest.

Others called for a more substantive response from the company while criticizing the police action.