Members of the Trump administration do not care about taxpayers at all.
In addition to skyrocketing Secret Service costs charged to taxpayers to protect the president and his family, Treasury Secretary Steve Mnuchin and Health and Human Services Secretary Tom Price have both come under fire recently for using expensive, taxpayer–funded private flights to travel for both business and leisure. Now, Mnuchin is being investigated for yet another chartered flight paid for by the public.

According to ABC News, Mnuchin used "a costly government jet" for a short flight from New York City to Washington, D.C. after the infamous meltdown by the president at Trump Tower, in which Trump defended neo–Nazis and the KKK after the violence at Charlottesville.

To return to Washington, D.C. after that press conference, which was supposed to be about national infrastructure, Mnuchin used an Air Force C-37 jet for the short, return flight at a cost of at least $25,000. But he wasn't alone in his abusive travel that day: Transportation Secretary Elaine Chao used the same jet to travel to New York for the same conference.

That flight is now under review by Treasury Department investigators, who already had begun probing the secretary's travel habits after he and his wife, Louise Linton, used a military jet to travel to Louisville and Fort Knox, Kentucky, last month, ABC reported.
As Splinter reported at the time, the cover story for that trip was a Mnuchin meeting with Senate Majority Leader Mitch McConnell to discuss, of all things, tax cuts. But the political watchdog group Citizens for Responsibility and Ethics in Washington believes the wealthy, elitist couple really used the jet to watch the eclipse.

G/O Media may get a commission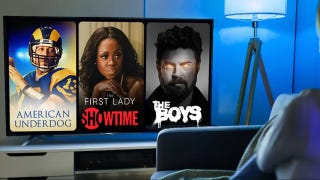 UNDER $1
99¢ Prime Video Channels
Mnuchin also is under scrutiny for an outrageous request for a publicly owned government jet for Mnuchin and Linton to travel to Europe for their honeymoon in August. The flimsy excuse for that request, which was later withdrawn after it was scrutinized, was that the former banker needed "secure communications."

Last week, according to Politico, Secretary Price took private jets for official business that included a stop at a resort in Maine, and community health centers in New Hampshire and Pennsylvania. Estimates put the amount that Price has spent on 24 chartered flights since taking office at about $300,000. This comes from the same man who wants to cut $1 trillion from Medicaid because he thinks it's wasteful spending.

An ABC investigation of the latest flight to come to light found that Mnuchin's office had requested it and Chao was added later. An explanation from Chao's office doesn't even really make sense. "Chao's office said she only takes government travel if there are concerns about security, excessive cost, or if there are no commercial options available," ABC noted. Yet, none of these excuses seem to apply to the Trump Tower meeting.

On Thursday, more than a dozen Democratic senators sent a letter to the Office of Management and Budget seeking answers about policies governing travel by Trump Cabinet officials and what the office was doing to ensure that laws are being followed, Business Insider reported.

So, remember all of this the next time any of these administration officials talk about repealing or "reforming" Obamacare or cutting taxes.