Potheads — they're just like us!
A new set of photos from the Drug Policy Alliance aims to show that all sorts of people use marijuana, whether they're watching a movie, relaxing after work or playing an intense game of Jenga.
The non-profit organization, which backs legalization, wanted to provide journalists an alternative to the stereotypical weed pics you might find on commercial photo sites.
The results are kind of funny — mainly because we're not used to seeing stock photos of ordinary people ripping bong hits. Here are some highlights:
Who wants to get stoned and play backgammon? We do!
G/O Media may get a commission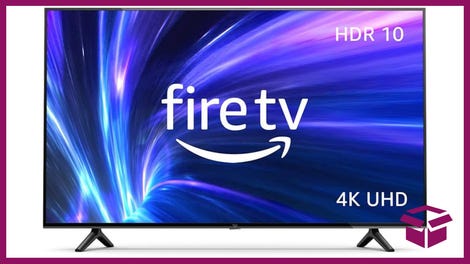 42% Off
Amazon Fire TV 50" 4K Smart TV
This is an amazing first date.
Play us some of that satanic jazz music, wouldya?
Dude, you rock!
Work from home day!
Vermont lawmakers threaten to bring back alcohol prohibition in protest over pot
See — how do you like it?
That's basically the idea behind a bill in Vermont that would ban alcohol in the state, all to send the message that marijuana should be legal.
The two lawmakers who proposed the legislation aren't serious about it. "The object was to basically embarrass leadership," Democratic Rep. Jean O'Sullivan, one of the sponsors, told The Huffington Post.
Under the bill, which is pretty much guaranteed not to pass, people caught selling alcohol could be subject to up to 30 years in prison.
Ben & Jerry's will have a 420 ice cream treat that looks like a giant joint
And speaking of Vermont, the state's cherished ice cream company, Ben & Jerry's, will be celebrating 420 on Monday with a special ice cream concoction that looks a lot like a doobie.
The BRRR-ito (which also kind of looks like a burrito) will be two scoops of ice cream wrapped up in a waffle cone, with fudge and cookie crumbs drizzled and sprinkled, respectively, on the front of it. Here's a promo video:
How has Vermont not legalized weed already?
Ted Hesson was formerly the immigration editor at Fusion, covering the issue from Washington, D.C. He also writes about drug laws and (occasionally) baseball. On the side: guitars, urban biking, and fiction.