Watts, Detroit, Ferguson: all sites of historic uprisings in 1965, 1967, and 2014, and each was labeled a "riot" in news headlines. "Riot" has a vastly different meaning than "rebellion," but try telling that to the countless reporters and historians who keep using loaded labels like a senseless, rampaging "riot" to single out marginalized communities taking to the streets in protest against police brutality and discrimination.
The word "riot" is historically coded. It's been used selectively in this country to report on majority black and brown communities clashing with law enforcement. And its targeted use is a reminder that our news media is still obsessed with using language that lays fault at the feet of disempowered protesters:
It's time for public definitions. What separates "riot" from "rebellion"?
Splinter defines "riot" as a violent disturbance of the peace by a crowd, and "rebellion" as resistance to authority or control, with some conditions: If no peace was in place to begin with, the disturbance-of-peace requirement for riot isn't met, and the action may be a rebellion instead—if it's aimed at demanding rights. "Riot" tells you next to nothing about cause, context, or goals. "Rebellion" hints at each: A rebellion is against something, for something, with emphasis on both subject and object. "Riot" implies meaningless eruption, an isolated flare-up that ends when the violence stops, or a gust of empty destruction by "punks" or "thugs"—name your villain.
G/O Media may get a commission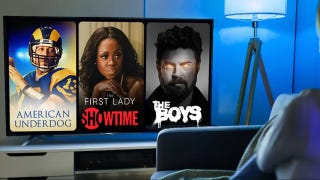 UNDER $1
99¢ Prime Video Channels
Did Nat Turner "riot"? Did the Stono slaves "riot"? These are rebellions—against injustice, for rights. In today's terms, an overturned car signals the demand for an overturned system, but all you hear in "riot" is the violence—there's that armed police force; there's that bottle thrown, window shattered, flame fueled. "Riot" takes any political purpose or project, if there is any, and reduces it to useless rage.
Or take a look at the "riot" archives over the past half century to see just how racially loaded the label is:

"Riot" isn't the only color-coded euphemism in news reporting on violent uprisings in this country. There are many labels just as unevenly used, and they're never far behind "riot," like "seething," "simmering," "boiling," adjectives aimed historically by news outlets at populations of color under the surveillance and suspicion of law enforcement:
Language is evolving, and newsrooms' guidelines change generationally, but it's more than outdated to call rebellions "riots." It's mistaken—and always has been. Riots exist, but failing to see the difference is a failure of historical thinking and language, and an example of confusion by writers who haven't gotten the memo that protest and confrontation have something to do with power and policing. The least we can do is get our terms right.
This post is part of Splinter's series on our house style guide, a living document spearheaded by senior copy editor Daniel King and crowdsourced from editorial staff across our teams for input on words' accuracy. Reach us at styleguide@splinternews.com.