(Part IX in Fusion's special series on Cubans' 5,000-mile trek to freedom. Full series at the bottom)
The Cuban migrant crisis in Central America is about to get a lot more stressful. The Costa Rican government is asking 7,802 Cubans stuck on the northern border to form a single-file line and pay $555 each to catch a short flight to El Salvador then a connecting bus trip up to Mexico's southern border.
Those who don't have the money will have to beg, borrow or steal.
Costa Rica says the first 180-passenger charter flight is scheduled to depart Jan. 12. for San Salvador. From there, the Cubans will be put on buses and driven north through El Salvador and Guatemala and dropped on the Mexican border. Then they're on their own.
The Tico government said it will have the first passenger list ready by Friday, prioritizing Cubans who have been stuck in Costa Rica the longest and have cash in hand. The government says the extraordinary measure will be limited to the 7,802 Cubans who currently have temporary visas to be in Costa Rica; every Cuban who shows up after that is on their own, which raises the possibility of another border pileup in the months ahead.
The package price for safe passage to Mexico is $555 or adults, and $350 for kids, and includes airfare to El Salvador, buses, food and exit taxes. Cubans traveling from Costa Rica's southern border will have to pay $570 each. It will take at least 43 charter flights to get all the Cubans out of the country and on their way.
G/O Media may get a commission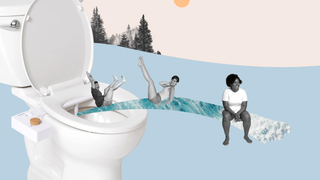 17% off
Tushy 3.0 Warm Water Spa Bidet Attachment
With a total estimated cost of nearly $4 million to get all the Cubans out of Central America, the Costa Rican government says it can't afford to pay anyone's passage out of the country. Those who have the money can go. Those who don't have the money, need to figure out a way to get it.
"We are just establishing the logistics of the operation and developing the mechanism [for the Cubans to leave]. We hope it works and we can't do more," said Costa Rica's Foreign Minister Manuel Gonzalez, who called for Cubans to remain calm and orderly during the process.
Gonzalez admits he doesn't know what will happen to the Cubans once they arrive in Mexico, but says Costa Rica is doing as much as it can given very difficult circumstances.
The Cuban migrants have been stuck in Costa Rica since Nov. 14, when the Nicaraguan government militarized its southern border to prevent a group of 1,500 islanders from continuing their 5,000-mile overland journey to the United States. Since then, the number of Cubans piling up in Costa Rica has swelled to nearly 8,000, creating a humanitarian crisis.
Nicaraguan intransigence led to a quick proliferation of human trafficking networks, forcing Costa Rica to go to extraordinary lengths to negotiate a solution with other countries. On Dec. 28, a secret airlift deal was announced without details. The first details, including pricing, processing and the initial flight date, was announced this afternoon in San José, but how the operation will work remains to be seen.
Costa Rica insists the special airlift deal will be extended only to the 7,802 Cubans currently in  Costa legally, and not to immigrants from other countries.
The Costa Rican authorities admit the airlift is not a sustainable solution to the problem, but say it's the best they can do given "the current rules of the game"—in reference to the U.S.' refusal to eliminate the wet-foot/dry-foot immigration policy.
Full Cuba Series: