In a combination of two of the worst things about life in America right now, Brock Denton, a white frat boy (obviously) was kicked out of his Arkansas university for dressing as Bill Cosby—blackface and all—for his frat's Halloween party on Friday. "It was a bold night," he wrote in his Instagram caption showing off his costume.
By the next day, he was expelled by the school, and his frat's chapter was suspended by the national organization. The university president posted a handwritten message to the student body on Twitter, writing, "This institution embraces all races, cultures, and nationalities."
Denton defended himself on Instagram—never a good idea—writing in a now-deleted post (saved for posterity by student newspaper The Echo), "Within a matter of a few hours social media has made me out to be a monster, a racist, a supremacist and those are just three of the many hateful names I have been called. I have been sent death threats, threats to burn my house down… I am the farthest thing from discrimination [sic], as a matter of fact I fight for equality everyday, I've been writing a book for the past two years on what it really means to be a good person."
Now that he no longer has classes to study for or blackface parties to attend, he should have plenty of time to finish up that book. Looking forward to reading it, Brock! (Don't count on the book being too enlightened, though; responding to comments under his non-apology, he wrote, "I can honestly say I've never heard of black face before until today. Believe me or don't but at this point all I can do is be truthful.")
G/O Media may get a commission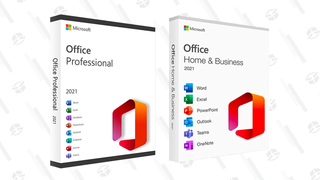 89% off
Microsoft Office Professional 2021 Lifetime License
Sam Stecklow is the Weekend Editor for Fusion.