Bad news for student loan borrowers. It's going to cost more to pay for college next year.
Interest rates on federal student loans are set to rise. Here's what the rates will look like come July:
Undergraduate Stafford loans - 4.66 percent
Graduate Stafford loans - 6.21 percent
PLUS loans - 7.21 percent
For context, a freshman with four years of college to go could pay nearly $1,700 more over the life of her loans.
The cost of borrowing money is going up because Congress passed a law last summer that ties student loan interest rates to the yield on 10-year Treasury notes, essentially what it costs the government to borrow money.
As the economy improves, the Treasury rate goes up, which pushes student loan interest rates higher, too. That means the rates can continue to climb, and probably will.
G/O Media may get a commission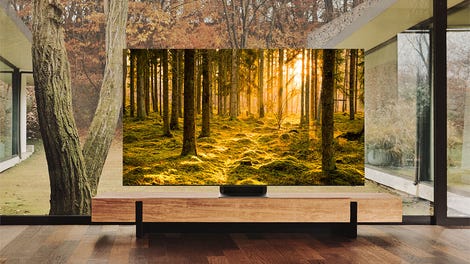 Up to 40% off
Samsung Smart TVs
"This is why it is bad policy to tie student loans to market rates," Tahir Duckett, who works with young AFL-CIO members, wrote in an email. "If Washington is interested in investing in the next generation of workers, this is some way of showing it."
But Congress has capped undergraduate Stafford loan rates at 8.25 percent, graduate Stafford rates at 9.5 percent and PLUS loan rates at 10.5 percent. Those rates may sound high, but they are still lower than interest rates on many private student loans.
Even so, the government is expected to pull in $127 billion in profit from student loans over the next 11 years.
News of the rate hike isn't exactly a surprise for student borrowers, but it's not welcome either.
College costs are continuing to rise, forcing more students to take out loans to finance their degrees. The average student borrower is taking out about $30,000. Poor job prospects after graduation have made it difficult for many young people to repay the debt, and left them with less money for houses and cars.
The good news is that lawmakers on both sides of the aisle are making student debt a priority.
Senator Elizabeth Warren (D-Mass.) introduced a proposal this week that would let borrowers paying high interest rates refinance their student loans at current interest rates. Senator Marco Rubio (R-Fla.) has promoted an income-based repayment plan based on how much graduates earn after they graduate.
Natalia Abrams, executive director of Student Debt Crisis, a nonprofit that wants to make college more affordable, said she's "not quite sure it's sending the right message" when the government asks students to pay higher interest for a college education than people pay to buy houses and cars.
"This increase is what we feared," she said.
Emily DeRuy is a Washington, D.C.-based associate editor, covering education, reproductive rights, and inequality. A San Francisco native, she enjoys Giants baseball and misses Philz terribly.