On Monday, some University of Southern Mississippi students checked their phones to find a disturbing message on social media.
"The red will flow tomorrow in [Joseph Green Hall]. I recommend missing class," read an anonymous post on popular messaging app Yik Yak. Immediately, campus police were notified and an investigation was launched. Within hours, police arrested student Brandon Hardin, who was charged with posting a computer threat to cause injury, a felony offense.
The incident was one among a series of recent arrests related to the app in campuses across the country. Over the past week, similar arrests have been made at the University of Georgia and Indiana State university. Public school districts across the country have asked the app to block access near school campuses. At one point, the app was disabled across Chicago because of an outcry from concerned principals.
Just what is  so special about the app, you ask?
Yik Yak works like an anonymous Twitter. It is basically a stream of short messages, with a Reddit-like upvote/downvote function. It pulls in the messages in your direct vicinity, giving users a sense of what is really going on beneath the surface of your school.
G/O Media may get a commission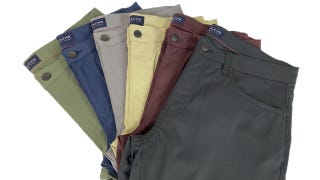 JACHS NY Fall Stretch Tech Pants
And for long-distance voyeurs, there is a 'Featured" section, which pulls in the feeds from campuses around the country. The app is incredibly addicting, intimate, and sometimes revealing. But sometimes, it's easy to see why it might make people uncomfortable.
Can't help but feel the awkwardness for that girl when other people in the class presumably read the message.
The company's website estimates that on some campuses the app penetrates 80 percent of the student body.
But beyond the shallow gossip, you also get these kinds of disturbing cries for help.
Internet is anonymity is a blessing and a curse. It's what compels users like the one with a sexual predator boyfriend above to air their comments without feeling self-conscious. But it is also facilitates trolls and trollish behavior. It is the reason websites, including the once-notorious YouTube, have changed their commenting policies to end anonymity.
It's no wonder students feel a sense of invincibility when cruising the hidden corners of the Internet, says Dr. Sameer Hinduja, a Professor in the School of Criminology and Criminal Justice at Florida Atlantic University and Co-Director of the Cyberbullying Research Center.
"Just like [when] kids make mistakes in going off on someone verbally in the heat of the moment, they are just as likely to fly off the handle when posting online," he told Fusion. "But if they screw around drastically, there are real life implications for it. There's a measure of anonymity on these apps, but only up to a point."
"Police can find out who you are. In most instances we will find out who you are and we will arrest you," Indiana State Police Cyber Crime Commander Lt. Chuck Cohen recently said after a few Yik Yap-related arrests in his state. The app regularly complies with authorities for these incidents.
So, that said, let's take a look at some anonymous deep thoughts from the future leaders of America.
Daniel Rivero is a producer/reporter for Fusion who focuses on police and justice issues. He also skateboards, does a bunch of arts related things on his off time, and likes Cuban coffee.