Brown University student Renata Mauriz felt energized as she grabbed a megaphone last Wednesday and called on school administrators to protect her personal information from the prying eyes of immigration officials.
She was participating in a walkout of hundreds of students who ditched classes to gather in front of Brown's administration offices and chant "No human being is illegal!" and "No more deportations!"
Mauriz, an undocumented student from Brazil, wants her school to protect its undocumented student body by blocking immigration officials from entering the university's campus.
"I'm undocumented, so is my family. And I am in fear," Mauriz told Fusion in a phone interview. "I find solace in the thousands of people who are uniting right now to build this national massive resistance against racism, hatred and xenophobia."
G/O Media may get a commission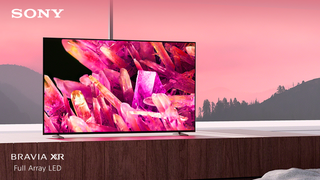 $400 off
Sony 55 Inch 4K Ultra HD TV X90K Series
The Brown walkout is part of a growing movement on campuses around the country. Students are demanding that their colleges declare themselves "sanctuary campuses" to shield immigrant students from President-elect Donald Trump's plans to round-up and deport millions of undocumented people during his first 100 days in office.
Trump has vowed to end sanctuary cities that refuse to assist his immigration raids, but students say that shouldn't stop their schools from becoming their own sanctuaries for undocumented staff, workers, and students.
"What we're really trying to do is show the American public that we won't let Trump normalize deportations," said Mauriz.
So far, students from more than 100 universities have signed petitions and held protests calling for their universities to become sanctuaries. Brown alone has received letters with thousands of signatures from alumni, students, and faculty.
Brown's campus is in Providence, Rhode Island, a city that has no sanctuary policies. The city doesn't turn over undocumented immigrants without violent criminal records, but students at Brown say their school can go a step further than the city by preventing ICE agents from entering its campus in the first place.
This map created by Movimiento Cosecha shows where students at universities around the country signed up to be part of the #SanctuaryCampus walkout.
Specific "sanctuary" demands vary from campus to campus. Students at University of Texas-Austin are asking administrators to "refuse to comply with immigration authorities regarding deportations or raids," while the student body at the University of Wisconsin-Madison wants school administrators to deny ICE officers permission to search campus facilities.
The uncertainly of studying while undocumented takes an emotional toll on many students. Studies have found that undocumented immigrant students, especially women, have substantially higher levels of anxiety than students with U.S. citizenship.
Now the campus sanctuary movement is saying enough to the fear and anxiety.
"This initiative really came from the students locally," said Carlos Rojas Rodriguez, a volunteer staff member at Movimiento Cosecha. He says his organization is helping to "provide some vision as to what the students can do with their energy," but insists the movement is growing organically.
"What is happening around the country right now is that college students with or without organizing experience are self-organizing," he said. "They feel called in this moment to take a stand."
Movimiento Cosecha says to become a sanctuary campus universities should protect students' personal information from ICE, prevent immigration officers from entering campus, and prohibit university police from inquiring about students' immigration status.
None of the demands are that radical, legal experts say. School administrators are well within their rights to implement such measures without entering into confrontation with the federal government, says María Blanco, executive director of Undocumented Legal Services Center.
"If you really look behind what people are asking for when they say sanctuary, they are asking for some really doable things," she says.
Universities already have several laws and tools at their disposal to protect their students, including the Fourth amendment, which protects the personal records of students, staff, and workers.
Blanco also notes that college campuses, similar to churches and hospitals, are designated by the federal government as "sensitive locations," which means ICE officers need a subpoena, warrant, or a compelling reason to enter in search of undocumented immigrants. But that hasn't prevented undocumented immigrants from being detained on campuses and transferred to ICE custody because of warrants unrelated to their immigration status. That's why it's so important to get campus police on board with the concept of sanctuary campuses.
Still, even the best campus sanctuary is limited in the scope of the protection it can offer. Students walking across the street for a cup of coffee are vulnerable to police searches.
For Thaís Marques, an undocumented student from Brazil studying at Rutgers University-Newark, the campus sanctuary movement is about more than changing policies at her school. It's about sending a message and defining her community.
"We are in a moment right now where being inactive or being neutral is impossible," she said. "As someone who is undocumented, I'm in survival mode, and the only way that my community and I can stay in this country is by organizing and by being vocal and coming out as undocumented."