Daily marijuana use on college campuses has been steadily rising since 2006, and finally surpassed the rate set in 1980 last year. What a chill, chill year.
The finding comes from the University of Michigan's decades-long study, Monitoring the Future, which has looked at the drug, alcohol, and tobacco use habits of teens, college students, and young adults across the nation consistently since 1980.
In 2014, according to the study, 5.9% of college students said they get high on weed daily or nearly daily (20 days out of the past 30)—that means students are using marijuana more than they are smoking cigarettes on a consistent basis. That figure has been steadily rising since 2007, when it was 3.5%. Casual use of marijuana has also been growing. The University of Michigan reports:

The percent using marijuana once or more in the prior 30 days rose from 17 percent in 2006 to 21 percent in 2014. Use in the prior 12 months rose from 30 percent in 2006 to 34 percent in 2014. Both of these measures leveled in 2014.
The rise seems to be directly correlated to more accepting attitudes toward pot. In 2006, according to the report, 55% of 19-22 year old high school grads said pot was dangerous. In 2014, that figure fell to 35%. That reflects national attitudes, too: the Pew Research Center noted back in April just how rapidly American thoughts on marijuana have changed, with young people leading the pro-pot charge. And, of course, pot getting decriminalized and legalized (hi, University of Colorado) probably doesn't hurt.
G/O Media may get a commission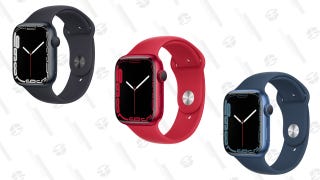 Up To $45 Off
Apple Watch Series 7
Students are also increasingly using amphetamines and ecstasy; the former, presumably, as a study aid. Researchers found that the amount of college students who used amphetamines that were not medically prescribed in the past year jumped from 5.7% in 2008 to 11.1% in 2012, but then fell slightly in 2014, to 10.1%. And in 2007, just 2.2% of college students said they had taken ecstasy in the past 12 months. That figure rose to 5.8% in 2012, where it has stayed.
The rise in pot use has accompanied a fall in the use of (mostly) legal synthetic marijuana and the hallucinogenic drug salvia. Plus, drinking levels have gone down:

Between 1980 and 2014, college students' rates of such drinking declined 9 percentage points from 44 percent to 35 percent, while their noncollege peers declined 12 percentage points from 41 percent to 29 percent, and high school seniors' rates declined 22 percentage points from  41 percent to 19 percent.
Alcohol-related deaths outnumber marijuana deaths by a lot, because alcohol can kill you, and pot cannot. So A+ on that critical thinking, weed-smoking college students.
Danielle Wiener-Bronner is a news reporter.