What makes a good teacher?
Showing up to class is a good starting point, but one that about 16 percent of teachers in the country's 40 largest school districts are failing to meet.
According to a new study from the National Council on Teacher Quality, these "chronically absent" teachers missed 18 or more days of school during the 2012-13 school year. To put that into context, we're talking a day of teaching every two weeks or so.
For comparison's sake, a 2012 report from Johns Hopkins University researchers found that about 15 percent of American children are chronically absent.
Chronic student absence has been linked to lower scores and higher dropout levels, and districts make efforts - from parent outreach to truancy punishments - to get kids into desks. But how can we expect students to commit to their studies when they're faced with a rotating array of substitutes who don't know them or what their specific needs are academically?
G/O Media may get a commission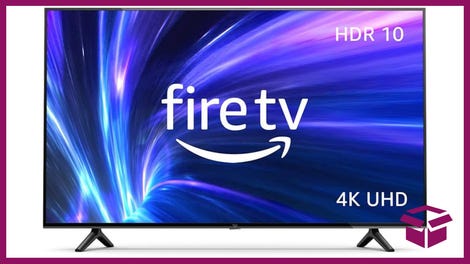 42% Off
Amazon Fire TV 50" 4K Smart TV
Interestingly, the study found no statistically significant link between teacher absences and the poverty level of their students, which runs counter to the commonly held assumption that poor schools have teachers who are less likely to show up.
While debates about how to improve the U.S. education system consider things like expensive technology innovations and standardized lessons, the good news is that getting teachers to show up could provide a no-cost boost.
In fact it could save money. The study found that the 40 districts spent more than $400 million on substitute teachers last school year.
How do we get teachers to come to school?
First, it's important to note that most do actually show up. On average, the study found that teachers were in the classroom 94 percent of the school year. That means teachers missed, on average, 11 school days out of a 186-day school year. Attendance interventions should be targeted at the minority of instructors who are not pulling their weight.
Second, school board policies that discourage teachers from skipping school don't work. Some districts reward teachers with everything from pay for unused sick days to football tickets. Others factor attendance records into evaluations and promotion decisions, while some require teachers to provide a signed doctor's note. The study found that in districts that implement such policies, attendance is roughly the same as in districts that do not set them.
Instead, the report suggests a culture shift. Many districts allow teachers to report absences online. They might be less likely to call in sick if they had to actually call in, specifically to their principal. Anecdotally, teachers told the report's researchers that absences tend to be lower when their students are redistributed to other classrooms than when a substitute is hired.
The report also notes the importance of finding the cause of the absences and then addressing them - why are the teachers absent? Is there something the schools can do to help teachers minimize those absences?
In other words, there's no one solution that will work for each district or each teacher, so it's not an easy fix. But poor teacher attendance is a problem worth considering and one that, according to the study, doesn't get enough attention.
After all, it doesn't matter how skilled or how good teachers are if they're not in the classroom with their students.
Emily DeRuy is a Washington, D.C.-based associate editor, covering education, reproductive rights, and inequality. A San Francisco native, she enjoys Giants baseball and misses Philz terribly.