A restrictive North Carolina abortion law was dealt a significant blow today with the Supreme Court deciding against hearing an appeal. The news comes a week after another restrictive law in Texas was upheld by a lower court.
Introduced in 2011, the North Carolina law would have forced women to view narrated ultrasounds of their foetuses before having an abortion.
The ACLU, one of the defendants in the North Carolina case, said in a statement to Fusion that the Supreme Court's decision is a win over what they called a "coercive ultrasound law."
"We are pleased that the Supreme Court decided not to review the decision striking down this law. Doctors shouldn't be forced to humiliate a woman and disregard their best medical judgment in order to provide an abortion," Jennifer Dalven, director of the ACLU's Reproductive Freedom Project, said in the statement.
But the justices' decision, which was unanimous except for Justice Antonin Scalia, could just mean they're biding their time to find a case that would be the best vehicle to discuss abortion rights, according to Martin Guggenheim, a professor at NYU's School of Law. He told Fusion that there is so much activity on abortion in the lower courts that the justices can afford to take their pick of the right case to make a point.
G/O Media may get a commission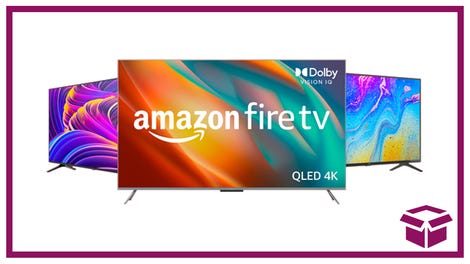 Ooh. stunning.
New Amazon Fire TVs
"They can pick the case that they think is best for their ultimate goals," he said. "So if you're on Scalia and Alito's side you're looking for a case where you think you can get five votes to cut back on opportunities to have abortions. If you're on the other side, it's the same thing."
Another landmark abortion case looms for the Supreme Court to consider reviewing before the end of their current session, which traditionally wraps up by the end of June: A Mississippi law similar to one that was upheld in a Texas court last week requiring doctors at abortion clinics to have admitting privileges at a nearby hospital. Texas' law would have the effect of shutting down just some of that state's clinics; Mississippi's meanwhile, stands to wipe out legal abortion entirely in the state—there's just one abortion clinic left. Mississippi Governor Phil Bryant has said that his goal was to shut the clinic down.
Each of these cases can, however, have a wider impact on how other states handle abortion laws, and ultimately how much access women across the country have to abortion clinics.
The Texas ruling is likely to be challenged by pro-choice advocates, and the next step would be for the Supreme Court to consider the appeal, giving justices another chance to weigh the arguments. "The pro-abortion side has got to seek review here or they're relegating not only Texans to live under the regime of this very harsh law, but it will surely lead to all other red states enacting similar laws," Guggenheim said.
In Mississippi in particular, the question the court would have to consider is whether a law that shuts down all access to abortions in a state is constitutional, even when put in place with the stated intention of protecting women's health.
"There is going to come a time, undoubtedly, that the court is going to have to hear that question," Guggenheim said. But, he said, the court could put off dealing with that question altogether until next year, if they choose not to take up the Mississippi case and just hold back the Texas law from being immediately implemented.