On Friday, the Supreme Court voted 5–4 against granting the Trump administration the temporary ability to enforce its ban on asylum applications for migrants who cross the border outside of an official point of entry.

The Department of Justice sought a stay in the case, which would have let it enforce the ban while the case proceeds in court. Chief Justice John Roberts sided with the court's four liberal members in rejecting the stay; newly minted Justice Brett Kavanaugh voted alongside Neil Gorsuch, Samuel Alito, and Clarence Thomas in Trump's favor.
The ban was shot down by a District court judge in San Francisco last month. "Whatever the scope of the President's authority, he may not rewrite the immigration laws to impose a condition that Congress has expressly forbidden," Judge Jon S. Tigar wrote in his decision. As my colleague Nick Martin wrote then:
Tigar found that the White House's attempt to bypass Congress in an attempt to shut down American borders to those that need entry the most would not hold up under further legal scrutiny. Tigar also made the common-sense observation that requiring all asylum seekers to funnel through a handful of checkpoints would only lead to more violent incidents around the border.
G/O Media may get a commission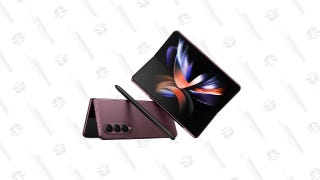 Save Up to $300
Galaxy Z Fold4
Trump was furious about this, decrying Tigar as an "Obama judge," which Roberts immediately condemned, and, after Tigar's decision was upheld by the Ninth Circuit Court of Appeals, the case made its way to the Supreme Court.
The stay's denial is not, of course, a final ruling on the case. But Roberts' siding with the core liberal members of the court in this case is, at the very least, a temporary reprieve for asylum seekers.