In the early morning hours of May 4, 2013, South Boston police were called to a motel in Virginia to look into a disturbance, allegedly caused by Linwood R. Lambert, Jr., 46. The officers took Lambert into custody. They handcuffed him. He was unarmed, and they did not arrest him.
Police drove Lambert to Sentara Halifax Regional Hospital. They thought he needed medical attention, because he seemed to have been hallucinating. When they stopped he forced his way out of the car and jotted to the emergency room doors. There, officers tased him repeatedly. Only then was Lambert put under arrest and charged with crimes—disorderly conduct and obstruction of property, according to CBS News. The officers put him in the car, and tased him again. Soon, he became unresponsive, but police still took him to jail, where an ambulance was called. He was taken back to the hospital, where he was pronounced dead. The whole thing took about two hours.
At the time, an autopsy blamed Lambert's death on "acute cocaine intoxication." But his family thinks otherwise. In April of this year, Lambert's sister Gwendolyn Smalls, filed a lawsuit on behalf of her family against the South Boston Police Department. The $25 million suit was reported on by the Richmond Times-Dispatch:

The suit filed by a Philadelphia law firm on behalf of Lambert's sister alleges a broad cover-up of details leading up to Lambert's death. It also includes sweeping allegations of a failure on the part of South Boston authorities to reveal details of the case and to properly train their officers to use Taser stun guns.
The Dispatch reports that 2013 announcements from the police department discussing Lambert's death didn't reveal that the officers tased Lambert while he was in custody. Virginia State Police offered the following statement on Lambert's death days after it occurred:

The officers took Linwood R. Lambert, Jr., 46, of Richmond, Va., into custody and transported him to Halifax Memorial Hospital for evaluation. Once they arrived at the hospital, Lambert became combative with the officers. He was then transported to the Blue Ridge Regional Jail, where it was discovered he was suffering from a medical emergency. Lambert was then transported by ambulance back to the hospital where he was pronounced dead.
G/O Media may get a commission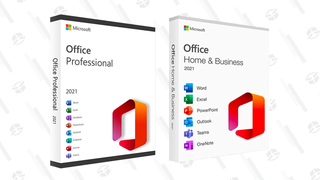 89% off
Microsoft Office Professional 2021 Lifetime License
Virginia police said at the time that the incident was under investigation.
After the lawsuit was filed, the South Boston Police Department responded with a denial of the allegations against them. An August 3 hearing left the state of the case ambiguous.
But it seems that recently released footage, from hospital surveillance cameras as well as the police cruiser's dashcam, should make it difficult for the police to claim that their reaction was appropriate.
MSNBC reports that a court order forced police to show Smalls the video as a result of the lawsuit. She first viewed footage last month. MSNBC offers a detailed account of the interactions caught on camera:

One [officer] ordered him to "stay down;" another, Officer Bratton, told him, "Every time you get up, I'm going to pop you." Lambert told them, "I didn't do nothing," and can be heard moaning in the recording. The officers tell Lambert to lie down, stay down, get on his belly, and roll over–while warning they will taser him again. "I'm going to light you up again–roll over, roll over, turn over!" Bratton says.
The footage shows Lambert, already on the ground, being tased again. During the interaction, Lambert mentions cocaine intake. MSNBC continues:

[The officers] restrained his legs with shackles. Then, as Lambert appears subdued on the video, the officers warned Lambert they would taser him again. "I'm going to hit you again," Bratton tells him. Then Lambert says, "I just did cocaine."… Lambert pleads to the officers, "Why are you trying to kill me, man?," and asks them to stop the tasing, saying, "don't do it, please don't do it, please officers."
MSNBC notes that all three officers present were promoted.
Tom Sweeney, the attorney representing Lambert's family, told CBS News that the video shows neglectful behavior on the part of the officers involved. "He was under obvious respiratory distress. He was perspiring heavily, breathing heavily. It appears he's no longer responsive, and they drove him to the jail," Sweeney said, adding "I think it's obvious on the video tape—here's a man who was tased repeatedly and it caused him to have cardiac arrest."
Loved ones remember Lambert, called Ray by friends and family, on an obituary page set up by his family.
The South Boston Police Department did not immediately reply to a request for comment.
Danielle Wiener-Bronner is a news reporter.