The opening day of the Democratic National Convention got off to a rollicking, if somewhat rocky start on Monday, with die-hard Bernie Sanders supporters doing everything they could to make their frustrations heard—party unity be damned. In some ways, it's understandable: Sitting in a hot convention arena, watching speaker after speaker endorse their candidate of choice's opponent after a blood-and-guts primary that was as much an emotional battle as it was a policy one; that's a particularly bitter pill to swallow.
While some Bern-outs chose to vent their frustrations by trying to shout down speakers like Elizabeth Warren and Corey Booker, actress and progressive activist Susan Sarandon, took a decidedly different approach: Sit quietly, roll her eyes, shake her head, and generally look like she's experiencing the worst day of her entire life.
…which the longtime Bernie-backer herself confirmed, as Monday evening's program headed into its final stretch.
G/O Media may get a commission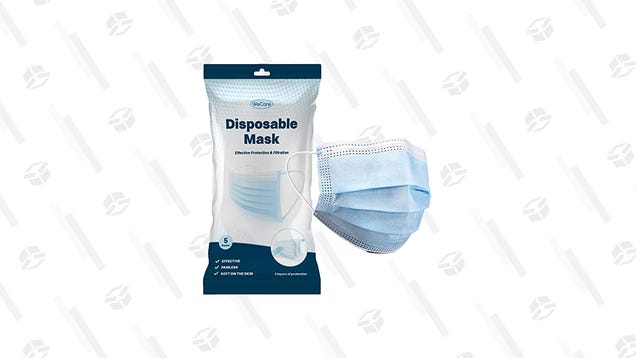 WeCare Disposable Masks With Elastic Earloops- 5 Pack
Ian McKenna, who created the GIF from CNN's convention footage, explained to BuzzFeed that the clip was taken while Rep. Luis Gutierrez was discussing Hillary's plans to fight the NRA, adding, "Not sure if she was shaking her head at that or just the general atmosphere or the idea of Hillary being president."
Regardless of the context, Sarandon's "not having it" face became an instant convention classic, shared by equally unhappy Twitter users:
As well as those frustrated by Sarandon's history of political outspokenness.
In early June, Sarandon predicted Clinton would be indicted for her use of a private email server, and called the former secretary of state "more dangerous" than even Donald Trump. Speaking with "The Young Turks" before the convention began on Monday, Sarandon blasted the Democratic National Committee and several news networks, calling them "disgusting" for working to influence the primary election in Clinton's favor.
https://www.youtube.com/watch?list=PLqSpk99bLYIRKq4aVpSe6NfWhbri-i6z1&v=-JP3hFKFg4A
As it happens, Sarandon wasn't the only celebrity to speak out this week over Clinton's impending nomination. Fellow actor Randy Quaid also offered his measured political analysis in a message posted on Monday to Twitter.
There are 104 days until the election.