The 46-year-old Iowa man accused of ambushing and fatally shooting two police officers in Des Moines, Iowa, early Wednesday left a trail on social media showing his penchant for the Confederate flag and frustrations with police. Police identified Scott Michael Greene as a suspect in the killings around 7:30 p.m. local time.
The two police officers were gunned down in their patrol cars within about 20 minutes of each other, police said in a statement. Officers responding to reports of shots fired found one officer fatally shot in his patrol car, with another wounded in his car about three miles away. The officer was transported to a local hospital, where he died.
After sparking a massive manhunt following the shootings of the officers, who police have identified as Urbandale police officer Justin Margin and Des Moines police Sgt. Anthony Beminio, police took Greene into custody around 9:30 a.m., when Greene flagged down a Department of Natural Resources employee and showed his ID.
After complaining to police about a "flare-up" of an existing medical condition, Greene was taken to the hospital, Des Moines police spokesman Sgt. Paul Parizek said in a news conference.
On YouTube, a user by the name of "Scott Greene" posted videos documenting his frustrating encounters with local police, including his removal from a high school football game in Urbandale, Iowa, over his waving a Confederate flag. Police are investigating whether the account is linked to Greene.
G/O Media may get a commission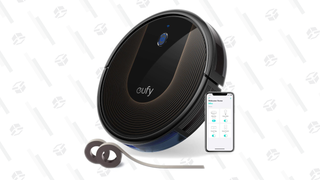 48% Off
Eufy BoostIQ RoboVac
A video posted October 14 documents Greene arguing with police officers, who are asking him to leave school grounds because he's caused a disturbance.
"I think I've been assaulted by you," Greene can be heard telling one of the officers. "You grabbed me and shoved me around."
Greene goes on to say he was assaulted in the stands by "African American people" in the stands and that an officer stole the flag from him. After Greene continues to insist that he was not causing a disturbance, an officer tells him that the flag violates school code.
"You came just to fly the flag and possibly cause a disruption tonight," an officer tells Greene. "You have to understand in the current social climate we're in, when you fly a Confederate flag standing in front of several African-American people, that's going to cause a disturbance, whether you intended to or not."
In a comment below the video, dubbed, "Police Abuse, Civil Rights Violation at Urbandale High School," Greene wrote that he was "offended by the blacks sitting through our anthem."
Another video, which appears to document the same incident of October 14, is a photo of Greene in the stands at Urbandale High School toting Confederate and American flags over his shoulder.
Neighbors told a reporter that Green put a Donald Trump campaign sign in his yard two weeks ago.
The football stadium sits at the intersection where one of the police officers was found dead on Wednesday.
Court records show a number of strained interactions with law enforcement.
In 2014, Greene was convicted of interfering with official police. The Des Moines Register reports that during the incident, Greene resisted officers' requests to search him after they spotted what looked like a gun holster.
Police said he was "noncompliant, hostile, combative and made furtive movements toward his pockets" during the arrest, according to the criminal complaint obtained by the newspaper. He was fined for the incident.
Although the complaint does not say how officers first came into contact with Greene, the paper reports that he wracked up another criminal charge less than one week later, when he threatened to kill a man who lived in his apartment building and called him the N-word.
Greene eventually pleaded guilty to a lower harassment charge in June 2014 and was sentenced to one year in jail. After a judge suspended his sentence to time served, Greene was put on one year probation, BuzzFeed News reported.
Most recently, police listed Greene as the victim in a domestic incident involving his mother, Patricia, in the home they shared in Urbandale.
According to the complaint obtained by the Register, Greene called law enforcement and accused his mother of hitting him in the face in an argument over his daughter's service dog being in the house. Patricia Greene was charged with domestic abuse assault causing bodily injury and ordered not to have contact with her son.