NICKELSDORF, Austria — Looking haggard, dazed, and more than a bit relieved to be out of Hungary, thousands of mostly Syrian war refugees trudged across the Austrian border this morning on the final leg of their tireless westward push towards the promise of a new life in Germany.
After clearing the gauntlet in Hungary, where police forced refugees off trains, locked them in overcrowded 'processing' centers, and teargassed them when they acted up, many of the weary travelers collapsed in the grass outside Nickelsdorf train station, where kindly Austrian aid workers greeted them with bottles of water, loafs of bread, kits of toiletries and— perhaps most appreciated of all — new socks and shoes.
Elderly women grimaced and rubbed their journey-blistered feet. Children grabbed at toys and bundled themselves in unseasonably bulky hand-me-down jackets from Austrian winters past. And men smoked cigarettes and stared silently into the middle distance as they queued to board the train to Vienna.
G/O Media may get a commission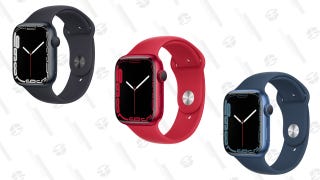 Up To $45 Off
Apple Watch Series 7
Everyone was happy to be out of Hungary.
"I want to say thanks to Austria because she opened her border to us," said a cheerful Ahmed Dahhan, a 25-year-old Syrian refugee who 15 days ago fled his country's ruinous civil war, which has claimed nearly a quarter of a million lives.
Other refugees seemed too shell-shocked to fully comprehend what was happening.
"Syria just kill. Live there very hard. Kill…sorry," blinked 25-year-old refugee Hewajalal, who I found wandering down the road next to a corn field looking to buy a SIM card.
Europe's refugee crisis, prompted mostly by the grinding wars in Syria, Iraq and Afghanistan, is being called the worst to hit the region in nearly 25 years. And it's putting a huge strain on the already tenuous European Union, whose members have wildly divergent views on the matters of immigration and asylum.
"We've had refugee situations in the past— when the Iron Curtain fell in '89, and during the wars in former Yugoslavia in the early '90s. But this situation is the biggest I can remember," Austrian police spokesman Helmut Marban told me as he watched his officers herding refugees onto a train to the capital city.
Marban said Austrian police transported more than 4,000 Syrian refugees from the Hungarian border to the capital city on Saturday morning alone. He expected the number could climb as high as 10,000 by the end of the day.
"For us this is a humanitarian situation," he said. "It's hard to say how long it will last."
#hyperlapse Syrian refugees on Austrian border

A video posted by Tim Rogers (@bajopatas) on Sep 5, 2015 at 5:04am PDT
Europe's refugee crisis blew up in a big way this week following two events. The first was the gruesome discovery of a 3-year-old Syrian boy who drowned at sea and whose body washed up on a Turkish beach and then onto the front pages of British newspapers. The second incident occurred Friday night when a large group of exasperated Syrian refugees wriggled past Hungarian police and started an epic 100 mile hike to the Austrian border — a march dubbed on social media, a touch inaccurately, as #MigrantMarch.
Semantics aside, the march was heroic because it brazenly defied the right-wing Hungarian government's efforts to detain the asylum-seekers westward trek (Hungary said it was obligated to process the refugees as the first point of entry into the EU). Still, Hungary didn't exactly try to disguise its dislike for the refugees, or Germany's siren song to asylum-seekers. Instead, the Hungarian government said the whole situation was a "German problem," as President Viktor Orban spat this week.
But when the Hungarians realized last night that they couldn't stem the floodtide of refugees, they used the moment as an excuse to throw everyone out. In the small hours of Saturday morning, the Hungarian government mobilized a massive bus convoy to take all the Syrian, Iraqi and Afghan asylum-seekers to the Austrian border and dump them there for the next country deal with.
The Syrians are glad they did. Outside the Nickeldorf train station, refugees hailed last night's freedom marchers as heroes.
"They are the reason why we are here now. They are brave for having the courage to do that," said 25-year-old Omar Salam, who left Syria almost a month ago with 10 family members. Salam says his family didn't join the march because the oldest and youngest members couldn't keep pace. But if it weren't for the efforts of #MigrantMarch, Salam thinks his family would still be stuck in a crowded Hungarian detention center.
"In Syria there are people who will take any risk for a better future. And I hope that they can give Europe as much as Europe gives them," he said.
So what can be learned from a situation that hasn't yet been resolved and might still get worse before it gets better?
At risk of sounding mushy, the early takeaway is that human will — the instinct to flee danger, and even the more refined desire to pursue a life of opportunities— can overcome almost any manmade obstacle put in its path. Politics and borders be damned.
No amount of border wall, teargas, skin-headed bullying by Hungarian soccer hooligans, or bad policy designed by fat men in ill-fitting suits has been able to detain the historic flow of migrants and refugees fleeing troubled lands. That's the history of Europe. And the world.
While the refugees' blistered feet and grumbling stomachs are a glaring example of our collective failures, their determination and forward progress gives us reason for hope.
Even now, as the frontrunners in the group finally reach German soil after weeks of treacherous travels by boat, foot, bus, and rail, it's a victory with an asterisk. *The refugee crisis, and bloody wars that spawned the mass exodus, have not been fixed.
But, and this is worth noting with an encouraging nod, the mood has started to change. The brave Syrian marchers succeeded — by putting one foot in front of the other — in bucking the odds, defying opponents, and finally forcing the EU to lend a proper sense of urgency to the humanitarian crisis around them.
Equally important, the Syrian travelers are starting to change public perception about refugees and immigrants in general — as evident by the big-hearted Hungarians and Austrians who have come out to help the weary-feeted travelers on their way west.
The refugees are reminding us that they are not poor, helpless charity cases. They're the strongest among us. Like migrants everywhere, they're showing us that they are willing to go to the greatest extremes to save themselves, preserve their families, and maintain their communities.
History will remember them as the survivors. The weak are those who try to stop them, but can't.