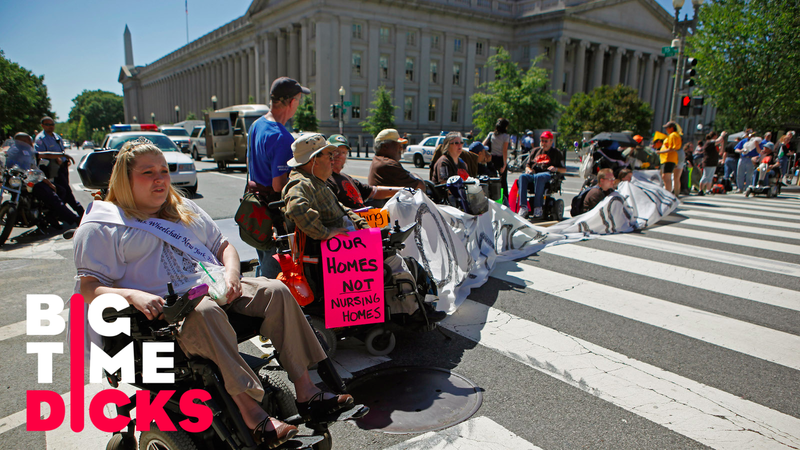 There are a lot of people to thank for last week's failure to pass the Obamacare replacement and repeal bill in the Senate, including the three Republican senators who broke with party lines to vote against the bill. But the role that activists played—particularly women and advocates for disability rights—cannot be…
As the Senate got down to the business of gutting the American healthcare system and denying tens of millions of citizens access to affordable health insurance, a group of angry protesters interrupted the proceedings with a final desperate plea.
After two days of protests, a group of disability activists were arrested and removed from Colorado Republican Senator Cory Gardner's Denver office on Thursday, in the latest emotionally charged skirmish over the GOP's ongoing efforts to gut American healthcare as we know it.

No amount of stress balls has been sufficient to get us through the past couple days since the GOP-controlled House passed the abominable American Health Care Act, more aptly described as Deathcare. We are probably all guilty of cursing to no end, yelling at the TV, and fighting the urge to throw the laptop against…
GOP lawmakers will try, with all their might, to justify their very unpatriotic and cruel vote this week to repeal and replace the Affordable Care Act, potentially leaving millions without access to vital health care services.
The press secretary for House Speaker Paul Ryan, AshLee Strong, has had it with people bothering her when she's trying to mislead the public on the Republican health care bill.
Late-night host Jimmy Kimmel delivered a tearful monologue last night about his newborn son who was born with a heart defect and had life-saving surgery at just three days old. And today, Republicans are trying to get the votes to pass a health care law that will make it next to impossible for people like Kimmel's…