There's a storm brewing in Tarrant County, TX, where the local Republican party is set to vote on whether or not to oust county vice chair Shahid Shafi from a leadership position within the party.

Shafi, a local surgeon, happens to be Muslim. And for a group of Tarrant County Republicans, that's simply a bridge too far.
"Dr. Shafi is a practicing, Mosque-attending muslim [sic] who claims not to follow sharia law or know what it is," one local conservative activist said in a Facebook post calling for Shafi's ouster. "As a practicing muslim that is an overt falsehood. Sharia law is anathema to our Constitution because Islam recognizes no other law but shariah [sic]."
"Please explain to me ... why we need a Muslim in the SREC in Tarrant County!" another wrote in a separate page, according to the Star-Telegram. "There are no Conservative Muslims or Moderate ones!"
Speaking with the Washington Post, Tarrant County GOP chair Darl Easton, who appointed Shafi as vice chair this past summer, claimed that the effort to remove Shafi was being spearheaded by local precinct chair Dorrie O'Brien.
G/O Media may get a commission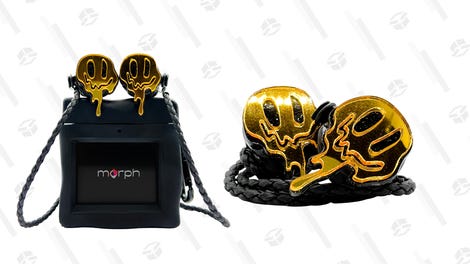 morph audio
Morph Earphones
"The only reason she had was because he was a Muslim," Easton told the Post.
Easton now finds himself targeted for removal as well. "Darl and his administration have intentionally established a narrative that the effort to remove his Vice Chair Shahid Shafi is nothing more than 'bigotry' by a 'small group' and not the position of the majority," reads an online petition calling for Easton's resignaton. (As of this publication, it currently has 44 signatures.)
Along with Easton, two Tarrant County GOP precinct chairs—both women—are being targeted as well, including Lisa Grimaldi Abdulkareem. Grimaldi Abulkareem, it just so happens, is married to a Muslim person. (The other woman, Kelly Canon, was accused in an email of being a secret Democrat.)
Some state Republican officials have publicly called for a stop to the blatantly Islamophobic purge, including Texas Land Commissioner (and son of Jeb!) George P. Bush:
The hardline anti-Muslim wing of the Tarrant County GOP, however, shows no sign of backing off of this crusade. At the end of December, the group reportedly plans to host former FBI agent John Guandalo, who's been described by the Southern Poverty Law Center as an "anti-Muslim conspiracy theorist," for a six hour training titled, "School: Islam and Sharia vs. the U.S. Constitution."
In an email obtained by the Texas Observer, Republican precinct chair Dale Attebery, who invited Guandolo to Terrace County, wrote that the session was of utmost importance "Because we need to know the truth before January 10, there is no option," and "Because we are losing Tarrant County [to Muslims], just like Dearborn, MI was lost."
As the Observer notes, Guandolo's company, "Understanding the Threat," posted a picture of Grimaldi Abulkareem in mid-October, calling her "another jihadi-defending muslim working inside the Republic [sic] party."
Perhaps the most depressing aspect of this bigoted maneuver is Shafi's acceptance of it as business as normal.
"This is, unfortunately, not the first time that people or my political opponents have tried to use my religion against me to distract the voters," he told the Washington Post. "And unfortunately, I don't think it will be the last either."
A vote on the fate of Shafi, Grimaldi Abulkareem, and the other targeted TCGOP officials is reportedly scheduled for January 10.