Angel and Jacqueline Rayos-Garcia sat in the gallery for visitors on the upper level of the House chambers as they watched President Donald Trump deliver his first speech to Congress. The president didn't mention the Rayos-Garcias in his address but he did allude to people like their mother, who his administration deported three weeks ago.
"I was kind of nervous to be in the same room with the reason why your mom isn't with you, it was pretty nerve wracking," Jacqueline, 14, told me in a telephone interview Wednesday morning.
Jacqueline and her older brother Angel, 16, became the face of Trump's deportation policies when images of the siblings blocking a van in route to deport their mother, Guadalupe García de Rayos, were broadcasted live on the internet.
The two siblings were invited to the address by Rep. Raul Grijalva and Rep. Ruben Gallego, both Democrats from Arizona. The Congressmen said they extended the invitation to the Rayos-Garcias because they wanted Trump to face the real human cost of his immigration policies.
G/O Media may get a commission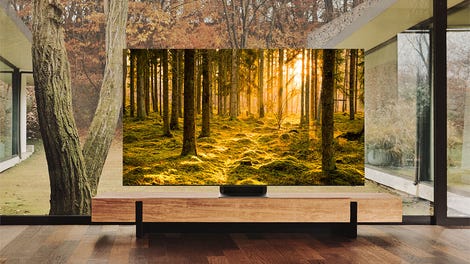 Up to 40% off
Samsung Smart TVs
The Rayos-Garcia siblings sat about 20 seats apart from each other in the House chambers and say they didn't clap or stand during the speech.
"It's easy for them to clap but they don't know what it's like to have your mom in another country," said Jacqueline during the phone interview.
The two siblings have different sections of the speech they say made them shake their heads in disbelief.
Jacqueline says she found herself shaking her head when President Trump said, "We are one people, with one destiny. We all bleed the same blood."
She says she wondered, "if we're all equal because we bleed the same blood, but if we're all equal, why does he want to divide us? Why does he want to separate families?"
Jacqueline, a ninth grader, said that part of the speech was "just crazy."
For Angel, it was another part of Trump's speech that didn't hold true for him.
"The part where [Trump] said the U.S. is deporting criminals and murderers, that's not true, he's deporting everyone in general," Angel said.
Angel, who is 10th grade, was referring to a section of the speech where Trump said his administration was deporting "gang members, drug dealers and criminals that threaten our communities and prey on our citizens."
The siblings see their mother as someone who had to feed her children, and not a criminal or murderer like Trump described in his speech.
Their mother had annual annual check-ins with a Phoenix ICE office since she was incarcerated for six months in 2008 after she was caught using a fake social security number. She was considered a non-violent immigrant with a criminal record—a low priority for deportation—during the Obama administration. But everything changed for the family after President Trump issued his executive orders on immigration a week after he took office.
The two siblings and their mother's attorney point directly at President Trump and blame him for their mother's deportation.
Their mother became one of the estimated eight million undocumented immigrants who suddenly become priorities for deportation under the Trump administration–more than five times the number of immigrants the Obama administration targeted.
"If Trump wasn't [in office] she would still be here," said Angel.