What was the first true rock and roll song? Some say "Rocket 88" by Ike Turner. Some say Arthur Cudrup's "That's All Right Mama". Some even say "Good Rockin Tonight" by Elvis. But Bill Haley and the Comets' "Rock Around the Clock," which hit number one on the pop charts 60 years ago today, is just as important in rock and roll history, though it rarely gets respect.
Bill Haley was a round man with a receeding hairline who looked more like an aging uncle than a young, dynamic pop star. He didn't have Elvis's sex appeal, but he performed what would become one of the first majorly successful rock hits. "Rock Around the Clock" combined jive, hillbilly and a little boogie woogie in a hyper-repetitive song that wormed its way into the minds of Americans and hit number one on both the American and U.K. charts in the summer of 1955.
Max Freedman was 60 years old when he wrote the song. The lyrics are simple, and on the surface, it's just about dancing all night long. Of course, "rocking" was a euphemism for as sex, but that usage had been at play in American music for almost twenty years by the time "Rock Around the Clock" came out (particularly in blues, jazz and R &B), so most of the controversy over Haley's song came not from its lyrical content but from its genre — rock and roll.
As Bob Stanley, author of Yeah! Yeah! Yeah!: The Story of Modern Pop,  wrote in the Guardian last year:

"That Bill Haley isn't thought of as rock's prime mover is sad and a little ridiculous. Whichever way you slice it, even forgetting Rock Around the Clock, he was at the front of the queue. No one had blended country and R&B on a single before the Comets' Rock the Joint in 1952. No one had scored an American Top 20 hit with anything that could really qualify as rock'n'roll before their single Crazy Man Crazy in 1953. . . . It opened the door for modern pop."
G/O Media may get a commission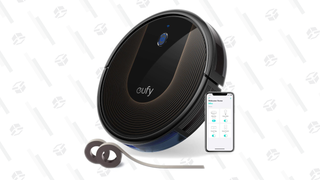 48% Off
Eufy BoostIQ RoboVac
"Rock Around the Clock" was a bit of a sleeper hit. Released as a B-side on Bill Haley and the Comets' 1954 song "Thirteen Women (and Only One Man in Town)," the song didn't really take off until the next year when it was used as the credit song for the movie Blackboard Jungle, about a teacher in an inner-city school. Blackboard Jungle became a huge hit with teenagers, who attended the movie to hear Haley's hit. Rock and roll, in 1955, was viewed as a bad influence for teens, which was half-supported because their extreme responses to the song sometimes led to violence and vandalism after the showing of the movie.
It was a hit. "Rock Around the Clock" got a big boost in popularity, becoming one of the first rock songs to place on the Billboard Pop chart.
But Bill Haley wasn't the kind of rockstar fans wanted. He was 30 years old, married, with several children. He had a a paunch that hung over his trousers, and a spit curl.
"Thousands of fans met him and the Comets, the saviors of modern youth, at Southampton. They were expecting a sun god," Stanley wrote in his book. But Haley wasn't that. What British youth saw was an "Uncle Bill who was a bit too loud and sweaty at a wedding party, who had dark rings under his sleeves, making bitter, off-color jokes about his ex-wife."
Ultimately, Haley had taken the soul of black American music and the jive of black American jazz and transformed it into rock, but he didn't have any of the soul or jive that those musicians had.
"Rock Around the Clock" itself is a watered-down, sped-up version of so many songs that came before it that it's almost hard to list them all. The melody is awfully close to Hank Williams's  1947 song "Move On Over," which itself was very very similar to Charley Patton's 1927 track "Going to Move to Alabama." There are phrases lifted from Count Basie's 1940 release "Red Wagon," and it's hard to listen to "Rock Around the Clock" without hearing decades of black musicians who played similar songs before Haley. Nothing about "Rock Around the Clock" sounds new, but in mainstream white chart culture, its placement at the top signaled a shift in the American music spectrum.
But as more and more mainstream white musicians took elements of black music and rock-ified them, Haley was quickly outpaced. Other rockers did what he did, but better: Roy Orbison, Jerry Lee Lewis and Buddy Holly.
The director of Sun Records at that time, Sam Phillips, has been credited with saying over and over again "If I could find a white man who had the Negro sound and the Negro feel, I could make a billion dollars." That man, of course, was Elvis Presley. Elvis was charismatic. He was young. He could dance. And his voice had a dynamism that made Bill Haley's feel like a flatline.
When the Rock and Roll Hall of Fame opened in 1986 it had sixteen inductees. Elvis was one of them. Haley wasn't. He hasn't been credited as a founding father of either rock or pop. But even 60 years later, it's pretty easy to see why "Rock Around the Clock" was a hit – it's still hella catchy.
Kelsey McKinney is a culture staff writer for Fusion.