It's almost unbearable to watch. But teenager Destinee Mangum summoned the courage to go on television to thank the families of the two good Samaritans who lost their lives protecting her and her friend.
"I just want to forget about it and not even remember it happened," Mangum said in a KPTV video shared by CNN. "Because it's just haunting me."

Mangum and a friend were riding a public train in Portland on Friday when they were verbally assaulted by 35-year-old white supremacist Jeremy Joseph Christian, who told them to "go back to Saudi Arabia." Taliesin Myrddin Namkai Meche, 23, and Ricky Best, 53, were killed when they intervened to protect the two teenagers, and a third man, Micah David-Cole Fletcher, 21, was seriously injured.

"He told us to go back to Saudi Arabia. He told us that we shouldn't be here and to get out of his country. He was just telling us that we basically weren't anything and that we should just kill ourselves," Mangum said.

This is the moment that Meche, Best, and Fletcher intervened. "We turned around while they were fighting, and he just started stabbing people…and we just started running for our lives," Mangum said.
G/O Media may get a commission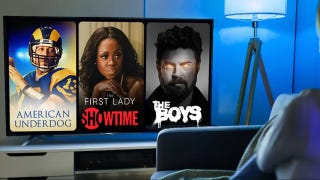 UNDER $1
99¢ Prime Video Channels
"I just want to say thank you to the people who put their life on the line for me, because they didn't even know me," she said. "And lost their life because of me and my friend, and the way we look."

While President Donald Trump issued a statement on Ramadan Friday in which he criticized the ideology behind "terrorist attacks," he has not, as of yet, spoken out against this homegrown terrorist attack by a white supremacist.

Watch:

Update: More than 60 hours after the attacks, President Trump—or someone in his administration—has finally issued a brief statement. That statement was posted on the official @POTUS account, not Trump's personal Twitter account, @realDonaldTrump, which he normally uses to rant about #FakeNews and other nonsense.
As HuffPost pointed out, Trump had over 20 chances to address the issue, having tweeted regularly over the weekend.
Here's what the statement said: