Two teens in Fayetteville, NC faced felony sex charges for consensually exchanging nude photos. For each photo, the minors were named as both perpetrator and victim of a sex crime.
According to WRAL, police looked through 17-year-old Cormega Copening's phone with his mother's permission as part of an investigation into possible sexual exploitation at Copening's high school last fall, where naked photos were allegedly being shared among groups of students without permission from their subjects. Copening was not linked to that case, but during the investigation cops found nude photos of his girlfriend, Brianna Denson. Both Copening and Denson were 16 at the time.
In North Carolina, creating and possessing sexual photos of minors is considered a sex crime under child pornography laws. The couple's nude photo exchange put them at odds with the law, and because 16 is the age of adulthood in criminal cases in North Carolina, both are being tried as adults.
So: Two 16-year-olds exchanging sexually explicit photos of themselves can be tried as adults taking advantage of themselves and their partners. Reason's Robbie Soave explained how he worked this out (emphasis ours):

I asked Fayetteville Observer Executive Editor Mike Adams about his publication's decision to release the names of the teens (something countless other local news reports did as well). He explained to me that it's the company's policy to publish the names of adults charged with felony crimes, which includes Copening and Denson, in this case.
G/O Media may get a commission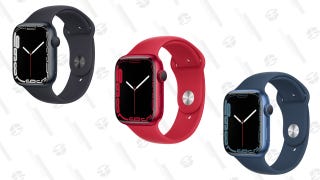 Up To $45 Off
Apple Watch Series 7
According to the Fayetteville Observer, Denson faced two charges of sexual exploitation of a minor: One for making the photo, and one for possessing the photo of a minor. Sexting aside, that means it is illegal for North Carolina teens to have nude photos of themselves. The Observer adds that in the police warrant, Denson is listed as both victim and criminal.
Those charges were dismissed after Denson pled guilty and agreed to a deal, which will wipe her record clean if she abides by the probation terms. She's on probation for a year, and will have to do 30 hours of community service and go without her phone for that entire time, among other restrictions.
Copening still faces charges—five of them. He's looking at two for each photo he took of himself, plus one for possessing a photo of Denson. If convicted, Copening would have to register as a sex offender for life and see up to 10 years in prison. That's 10 years for taking naked photos of himself, and hanging onto one his girlfriend sent to him. Until then, the quarterback has been benched.
Psychologist Jeff Temple told the Fayetteville Observer that the case sets a bonkers precedent: "you're talking about millions of kids being charged with child pornography."
Danielle Wiener-Bronner is a news reporter.