Five students from the Creston Community High School in Creston, IA, have reportedly been disciplined by school officials after they were photographed wearing white Ku Klux Klan hoods next to a burning cross and a Confederate flag. One of the students in the photograph also appeared to be carrying a rifle.

The picture came to the attention of CCHS officials on Wednesday morning, after circulating across social media. Speaking with KCWI Local 5, principal Bill Messerole insisted that the blatant racism on display in the photograph was not indicative of the larger Creston community.
"Our students know that that's not what our school stands for," Messerole said. "This is a good student body. I have always been proud of this student body. This isn't what our students are about. Our students are above this."
Assistant principal Jeff Bevins confirmed to the Creston News Advertisor that the school had taken action against the students in question, but added: "It is a student discipline issue, so no comment as far as what has been done with the students." According to Local 5, however, local social media indicates the students were suspended from school.
G/O Media may get a commission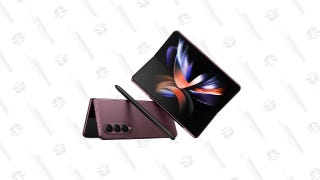 Save Up to $300
Galaxy Z Fold4
In a statement to the Omaha World-Herald, Creston Police Chief Paul Ver Meer stated that he was leaving the investigation to the school, and that no charges had been filed against the students in the photograph. He also suggested that the picture had been taken outside the city limits.
"It might be a county issue," Ver Meer told Local 5. "Depending on where that photo was taken."
On Twitter, CCHS student Tucker Flynn posted a short note insisting that "The actions made by a small group shouldn't represent the entire football team and community."
"I'm proud to be apart [sic] of what this team is actually about," Flynn added. "It's sad to see something like this ruin a rich tradition we carry."