After a spew of incidents where police officers have shot and killed dogs, officers in Texas might soon be required to get training on how to deal with dogs on the job.
Calls for statewide dog training standards began in 2012, after a Fort Worth couple's dog was shot by an officer who was at the wrong address when he claimed the dog charged at him. The couple claimed that the dog was just being friendly, and it later was reported that the officer had a fear of dogs.
Now, a bill has been unanimously passed by the Texas House, which would require all Texas officers to undergo a minimum four hours of dog encounter training, which will involve "knowing body language of a dog, types of aggression, and how to approach a dog," reported Amarillo's News Channel 10.
The bill is expected to pass the Senate, and be signed into law by Governor Greg Abbott.
The issue isn't unique to Texas, nor is the only issue the fact that dogs are dying.
G/O Media may get a commission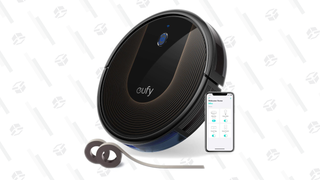 48% Off
Eufy BoostIQ RoboVac
In some cases, pedestrians have been put at serious risk when officers shoot at dogs. Cell phone video captured last week shows an NYPD officer shooting at a dog during an arrest in a crowded Brooklyn neighborhood. He missed, but bystanders were outraged that he was shooting his gun in such a populated area.
"You almost shot me!," screams an eyewitness in the video.
"Are you serious? There are kids out here," another said.
The dog had ran out of the home officers were raiding, and review of the video shows it appears to have just been acting playful with police.
In many different states, residents have filed lawsuits against police departments for shooting their dogs.
Back in 2011, the Justice Department issued a report titled "The Problem of Dog-Related Incidents and Encounters." Later, it would release a video series in order to train officers how to interpret "dog body language."
"Through proper training, law enforcement officers not directly tasked with enforcement of animal-related statutes and ordinances can still be prepared for safe, non-confrontational encounters," notes the DOJ in a blog post.
Back in Texas, the couple that has been urging Texas lawmakers to pass the statewide training after their dog was shot is relieved that the standards could soon be the law of the land.
"We have made amazing headway," Cindy Boling, one half of the couple, told the Texas Tribune. "I'm anxious, I'm excited and I'm very, very hopeful."
Daniel Rivero is a producer/reporter for Fusion who focuses on police and justice issues. He also skateboards, does a bunch of arts related things on his off time, and likes Cuban coffee.