PRESIDIO—The Mexico that Donald Trump talks about is unrecognizable to the border residents in Presidio, Texas.
Everyone here has close ties to Mexico, through family, business or both. The Mexico they know isn't a threat to their livelihoods, it's a support system. And when Trump threatens to disrupt that relationship, he's also hurting American workers in a state that voted red.
"We depend on Mexico," said Isela Nuñez, a Presidio-based customs broker whose livelihood relies on the exchange of goods across the border. "I don't think a lot of people realize the uniqueness of living in a border town. We share everything. We share families. We share culture. We share friends. We depend so much on each other financially and emotionally."
The City of Presidio does recognize the uniqueness of that relationship, and the potentially dire consequences of Trump's proposed economic policy. That's why they voted Democrat in a state that went Republican.
All along the U.S.-Mexico border communities like Presidio rely on their southern neighbors for trade and economic survival. While Americans in the Rust Belt cheer Trump's promises to renegotiate The North American Free Trade Agreement (NAFTA) and impose steep tariffs on imports from Mexico, those who live on the border are far more leery.
G/O Media may get a commission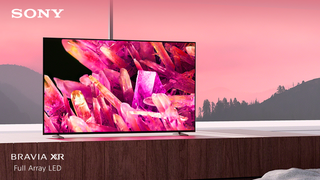 $400 off
Sony 55 Inch 4K Ultra HD TV X90K Series
"The most difficult thing right now is the fear of the unknown, but we still have to make a living. We still have to continue working," Nuñez said. "We can't give into that fear."
But even before the president-elect takes office, the fear is already taking its toll along the border.
"The thing that has hurt us immediately is the peso devaluation," said Brad Newton, Presidio's economic development director.
In the immediate aftermath of Trump's victory, the Mexican peso hit a record low, plummeting to 20.2044 to the dollar. It has struggled to regain ground since.
A weakened peso is nothing new for Presidio. Over the past year, the city's economy has already been battered by the effects of a dwindling peso, which declined steeply due to falling oil prices. And in the months leading up to the election, the value of the peso functioned as a barometer for Trump's success. Any time the polls showed Trump's numbers climbing, the value of the peso dipped even lower.
But now the peso's recovery is more uncertain than ever.
Sure, Presidio residents might get more bang for their buck whenever they cross into the Mexican sister city of Ojinaga to shop for groceries or supplies. But for the border community as a whole, a weak peso is bad news.
"Seventy percent of our retail sales are from Mexico," Newton said. "So everyone is affected. The mom-and-pop shops, but also your chain stores. Everything."
At Payless Shoe Source, one of the few retail supplies in the town that touts three dollar stores, store manager Beatriz Ramos told me that in the month of October her store saw 2,200 customers, most of whom came from Mexico.
When I asked what the effects of Trump might have on business, she mimed a gun to her head. "All of our strongest customers are Mexican," she said.
And it's not just the retail sector that's feeling the pain.
Ruben Brito, a Presidio-based businessman who is in the horse export business, said his work has also been hard hit by the devaluation of the peso.
When I visited his stockyards, he was in the middle of conducting a health inspection on a load of horses that were scheduled to cross the border that afternoon. "This is the first load of horses we've gotten in two weeks," said Brito, who would typically see a load every other day.
If the peso continues to drop, he said, "We'd have to lower the price on horses on this side." He added, "If it doesn't let up, then we're out of business."
At the customs brokerage firm where Nuñez works, broker fees have already been reduced by 60% because of the peso's devaluation.
"We're going to have to develop better relationships with our counterparts in Mexico and we're going to have to try to work more closely so that both border cities can make a living and continue this corridor of exchange of goods," she said.
What would Trump's plans to impose a 20% import tax mean for her clients?
"Most transactions across the border are [made by] small businesses," she said. "These are people who do not have the same resources as corporations. Small businesses would be affected more than anything else."
Like those who live in the Rust Belt, many of the blue-collar workers who live in Presidio have felt the consequences of economic decline and job-loss. Jobs in agriculture, once Presidio's bread-and-butter, are now virtually nonexistent. Many people now have to find work on oil rigs in Midland/Odessa, which is four hours away.
But unlike Rust Belt voters, the mostly Hispanic community of Presidio isn't convinced that the way to bring back jobs is by playing tough with Mexico.
And as Latinos, few can stomach Trump's racist rhetoric. "If he insults any Hispanic, whether it be in Mexico or in the U.S., he's insulting all of us, including myself," Nuñez said.