Advocates for domestic violence victims and immigrants have said for years that local police working with this country's immoral deportation apparatus forces victims of domestic violence into silence. In Texas, the New York Times reports, an anti-"sanctuary city" law passed last year is exacerbating that problem.

The Times reports:
Though Houston's immigrant population is one of the fastest-growing in the country, the city last year saw a 16 percent drop in domestic violence reports from the Hispanic community — a decline that police blame on a tough new immigration enforcement law in Texas and the increasingly hostile political climate across the country surrounding the issue of illegal immigration.

The Houston police recorded 6,273 domestic violence reports from Hispanics in 2017, compared with 7,460 the year before.
"Undocumented immigrants and even lawful immigrants are afraid to report crime," Houston police chief Art Acevedo told the Times. "They're seeing the headlines from across the country, where immigration agents are showing up at courthouses, trying to deport people."
The Texas law, which was passed last year and imposes fines on local officials who refuse to participate in federal immigration authority requests, is currently in litigation after being sued by advocacy groups and several local governments in Texas, including Houston. It was upheld by the notoriously conservative Fifth Circuit Court of Appeals in April.
G/O Media may get a commission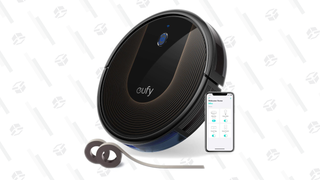 48% Off
Eufy BoostIQ RoboVac
The stories that the Times report are happening as a result of the government's anti-immigrant policies in Texas (and America more broadly) is heartbreaking:
One 38-year-old woman said she had never called police about her husband, who frequently beat her, not even when she was six months pregnant and he punched her in the stomach, causing her to lose the baby. Eventually, when her husband threatened to kill her, she left him — but she did not report him. "I know the police are there to help," said the woman, who feared she would be identified and deported if she gave her name. "But with the laws now, a lot of women like me are too afraid to come forward."
While the problem has existed for years—the 287(g) program, a partnership that allows the Department of Homeland Security to deputize participating local law enforcement agencies, has been around for over a decade—the Trump administration and Republican governments all over the country are just making it worse. An ACLU report from last month reported that 82 percent of prosecutors said that since Trump office, domestic violence "is now underreported and harder to investigate and/or prosecute," and 70 percent said the same for sexual assault cases, all as a result of a "fear of immigration consequences."
Back in March, Acevedo changed his department's policy to require that supervisors be present in certain domestic violence calls, such as one where the suspect is on the scene or when there's bodily injury. "We're not interested in somebody's immigration status," Acevedo reportedly said when he announced the change. "If a person is a victim of a crime or a witness to a crime, we want them to understand that this department, this D.A., our mayor, our community, stands with victims and witnesses of crime."
Because Texas is now openly adversarial to victims of domestic violence (as opposed to indifferent), however, the Times reports that domestic violence hotlines are picking up the slack. The Houston Area Women's Center received 33,692 calls to its DV hotline in 2017, and told the Times it saw an increase in Hispanic women seeking help.