WEST LIVINGSTON, Texas—On Wednesday, Texas will execute a man who calls himself Elvis.
Coy Wesbrook, 58, is scheduled to die by lethal injection for gunning down his ex-wife and four other people in 1997. But his lawyer and supporters say Wesbrook is mentally disabled and shouldn't be executed. And the psychologist who determined that Wesbrook was fit to face capital punishment has had his methods discredited.
"This is a real travesty," said Don Vernay, Wesbrook's lawyer. "Because he can read and write, they claim he is not mentally retarded, which is bullshit."
Wesbrook killed five people in Channelview, Texas, on November 13, 1997. He had divorced his wife, Gloria Coons, a few months earlier, and she invited him to a party that night, which he hoped meant they could get back together. At one point during the party, Wesbrook noticed that his wife had disappeared. He walked into her bedroom and found her having sex with two other men.
G/O Media may get a commission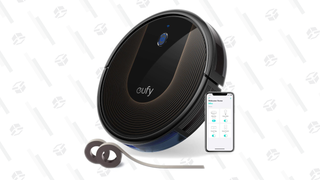 48% Off
Eufy BoostIQ RoboVac
He tried to go to his truck and leave, but one of the other men grabbed his keys and another threw a beer in his face. So Wesbrook got his hunting rifle out of the back of the truck and shot everyone there. Then he sat and waited for the police.
In June 1998, a jury convicted him of murder and sentenced him to die.
According to Atkins v. Virginia, a Supreme Court case from 2002, executing people with intellectual disabilities is cruel and unusual punishment—but states are allowed to define intellectual disabilities for themselves. Texas' longtime standard has been based on IQ, with anyone with an IQ of under 70 being seen as disabled.
Wesbrook appealed his conviction, with his lawyers arguing that he was incapable. Prosecutors hired a psychologist named George Denkowski to test Wesbrook's capacity. In 2006, Denkowski submitted a report finding that Wesbrook had an IQ of only 66. But a few months later, he filed an updated report saying that based on "non-intellectual factors," Wesbrook's "actual adult general intelligence functioning is estimated to be of about 84 IQ quality."
Denkowski, who examined 16 death penalty defendants and found them all mentally capable for execution, was later reprimanded by the Texas State Board of Examiners of Psychologists for ignoring standard testing practices. In a 2011 settlement with the board, he paid a fine and agreed to never testify in a criminal case again. "There's absolutely no scientific basis to his procedure," Marc Tassé, an Ohio State professor, told The New York Times.
After Denkowski's ouster, the trial court that handled Wesbrook's case again denied his claim of mental incapacity in 2014 and didn't allow for a new psychiatric evaluation. "It's like trying to put the toothpaste back in the tube," Vernay said of Denkowski's determination. (Denkowski declined to comment on Monday.)
Wesbrook's last chance before Wednesday is a clemency petition in front of the Texas Board of Pardons and Paroles, but the board almost never grants clemency to death row inmates.
On execution days, officials drive inmates from their squat concrete cell blocks here in a northern Houston suburb one hour west to Huntsville, where the "death chamber" is located. Wesbrook will be able to meet with visitors and spiritual advisors and eat his last meal before he's executed by lethal injection.
"If you got a pill, I'll take it right here in front of you, and we'll get it over with right now," Wesbrook told a reporter from 60 Minutes in a recent interview. "I hope St. Peter lets me in the gates."
Pat Hartwell, a Houston anti-death penalty activist who has corresponded with Wesbrook and will witness the execution, showed me some of his letters at her home on Saturday. "He writes like a second grader," she said as she pulled out several hand-written sheets of paper. The handwriting is scrawled across the page, and there's little grammar or punctuation. Almost every word is capitalized. Some letters have little drawings in the margins.
Overall, they read like hastily-sent telegrams from far away: "Its a Done Deal The Date is March 09, 2016 Thats a Wednesday." "I Change Many Many Thing if Give The Chance 'But' Like you Say That aint Gonna Happen."
Wesbrook, who dropped out of school after eighth grade, signs his letters "Elvis" and has made clear to Hartwell and his lawyer that that's the only name he now goes by. But it's not clear whether his love of the name Elvis means he actually thinks he is the Elvis.
"He never told me outright that he thinks he's Elvis Presley," Hartwell said. "One of his first letters he ever wrote me he was telling me about his funeral. He said, 'Oh, my funeral is already arranged, it's going to be a grand affair, there's going to be Elvis music playing. All I want you to do is bring streamers.' I wrote him back and I said, 'What color?' He said blue streamers.
"Whether this will come to fruition I have no idea," she added, "but I'm not going to say a word to the man about that."
Casey Tolan is a National News Reporter for Fusion based in New York City.