A federal judge in Texas issued an injunction on Monday temporarily stopping President Obama's new deportation relief program from going into effect.
The injunction halts the president's expansion of the Deferred Action for Childhood Arrivals (DACA) program, as well as a program intended to protect immigrants with strong ties to the United States.
In November, Obama announced a series of sweeping executive actions on immigration that would let up to 5 million undocumented immigrants apply for work permits in the U.S. The plan, however, enraged conservatives who said the president was flouting the Constitution by acting alone.
In response to the president's actions, a coalition of 26 states — led by Texas — sued the Obama administration.
"We live in a nation governed by a system of checks and balances," Texas Gov. Greg Abbott said in a statement after the announcement, "and the President's attempt to by-pass the will of the American people was successfully checked today."
G/O Media may get a commission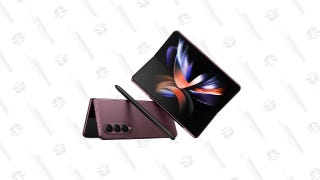 Save Up to $300
Galaxy Z Fold4
This ruling represents an early victory for that coalition. Federal immigration officials were set to roll out an expansion of the DACA program on Wednesday. Now, the implementation will almost certainly be delayed.
The application process for the second program, which would offer deportation relief to parents of U.S. citizen children and permanent residents, was set to begin in mid-to-late May.
The federal government is expected to appeal the injunction, but the process could take weeks in court.
In a 123-page opinion explaining the decision, Judge Andrew S. Hanen of the U.S. District Court in Brownsville, explicitly pointed out that the injunction does not include the existing DACA program or the administration's ability to selectively focus its immigration enforcement resources.
In support of the lawsuit, the states claimed it would be "difficult or impossible to undo the President's lawlessness after the Defendants start granting applications for deferred action."
Hanen found that the states have some standing in the case. In his reasoning for the injunction, he said that "there will be no effective way of putting the toothpaste back in the tube should Plaintiffs ultimately prevail on the merits."
Immigrant rights groups, for their part, assured their networks that while the ruling was a setback, it would not put the programs in jeopardy.
"Executive action protecting immigrant youth and parents is solid," Cristina Jiménez, the managing director of United We Dream, said in a statement. "Judge Hanen's ruling is not permanent and we are confident that it will be repealed in a higher court."
Ted Hesson was formerly the immigration editor at Fusion, covering the issue from Washington, D.C. He also writes about drug laws and (occasionally) baseball. On the side: guitars, urban biking, and fiction.