When Daniel Cummings, the principal at MacArthur High in Irving, Texas, pulled Ahmed Mohamed out of class on Monday, he suspected the 14-year-old inventor had brought a bomb to the school.
Mohamed, who builds all sorts of gadgets in his free time, calmly explained that the "bomb" was actually a simple digital clock he'd made to show his engineering teacher.
Cummings refused to believe the freshman, threatened to expel him and called local authorities. The principal demanded Mohamed provide a written statement about a so-called "hoax bomb," but the student stood his ground.
G/O Media may get a commission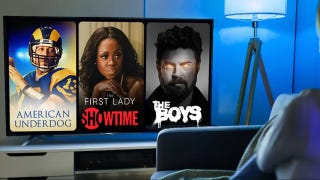 UNDER $1
99¢ Prime Video Channels
Even after police themselves failed to prove that Mohamed's clock was anything but a clock, Cummings agreed to let them humiliate the boy by handcuffing and escorting him through the halls in plain view of other students.
A letter signed by Cummings was sent home to the parents of other MacArthur High students yesterday after word broke of what happened. In the letter, Cummings insists that everything he did, he did for the "your child's safety."
"While we do not have any threats to our school community, we want you to be aware that the Irving Police Department responded to a suspicious-looking item on campus yesterday," Cummings wrote. "We are pleased to report that after the police department's assessment, the item discovered at school did not pose a threat to your child's safety."
To be clear, Ahmed Mohamed's digital clock posed no threat to anyone at MacArthur High. MacArthur High, though, clearly posed a threat to Ahmed Mohamed.
Mohamed will not be officially charged with any crime, but the teen was taken to a juvenile detention center, fingerprinted, and suspended from school for three days.
For many, MacArthur's response to the way it handled the incident came across as tone deaf and explicitly Islamaphobic. The hashtag #IStandWithAhmed soon lit up with people expressing their outrage at Mohamed's mistreatment and their support of the boy's creativity.
When asked about the backlash against MacArthur High and the Irving Police Department, Irving School District Director of Communications Lesley Weaver insisted that many of the people that saw the clock couldn't help but mistake it for a bomb.
"Have you seen the photo that was released by the PD department?" Weaver asked. "The only thing that I would ask is that people see the image. I've heard that if people saw that beneath a car or in an airport, they'd be worried. My understanding is that people didn't think that it was a clock."
Mohamed's clock, again, was in his backpack, not under a car or snuck into an airport. One of arresting officers who detained the boy insisted that the clock resembled a "movie bomb."