For years, Republican lawmakers in Texas have argued that defunding family planning services and Planned Parenthood was necessary to reduce the number of "immoral" abortions being performed in the state. But a new study shows exactly the opposite is true, and the justification for those funding cuts is based on a statistical falsehood.
In a study accepted for publication in the Journal of Health Economics, professor Analisa Packham, formerly of Texas A&M University and now at Miami University, found that the policy by Texas Republicans in 2011 to defund family planning services by 67%, or about $73 million, which resulted in the closure of 80 clinics, actually increased abortion rates by 4.9% over the next two years, and by 3.1% three years after the cuts took effect.

Packham calculated that teen birth rates also increased by about 3.4% over the four years after the cuts.
Unsurprisingly, clinic closings disproportionately affected poorer counties and had a lesser effect on wealthier counties where residents could better access health services, Packham found.

The study notes:
For over four decades, publicly funded family planning clinics have provided free or nearly-free contraception, sexually transmitted disease (STD) screenings, and counseling services to low-income women. Many women rely on these clinics as a primary source of health care, and 85 percent of clients adopt or receive contraceptives at these facilities.
G/O Media may get a commission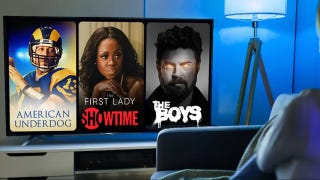 UNDER $1
99¢ Prime Video Channels
Another study by the University of Texas' Texas Policy Evaluation Project bolsters those findings, The Austin Chronicle adds. That study determined that in East Texas' Gregg County, where women have a median income of just over $21,000, the number of abortions increased by a staggering 191% in the two years after the county lost 60% of its family planning funding.

Texas isn't alone in its quest to defund family planning services. Other states are considering similar measures, including New Jersey, Montana, New Hampshire, and Maine, according to Packham, and Republicans hope to expand these draconian attacks on women's access to health services across the country. They are being supported in these efforts by the Trump administration.

However, Texas is leading the charge. According to The Hill, the Trump administration could approve a request by Texas officials to exclude Planned Parenthood and other abortion providers from receiving federal funding for family planning. Planned Parenthood also could lose its funding for at least a year if the Republicans' health care bill currently being put forward by the Senate gets passed.

But the argument by Republicans that they don't want to spend taxpayer dollars on abortions is based on faulty logic from an economic viewpoint, too. According to Packham's study:

The estimates suggest that nearly 2,200 teens would have not given birth absent the reduction in Texas family planning funding. Given that the National Campaign to Prevent Teen and Unplanned Pregnancy estimates that the average cost of teen childbearing to taxpayers is nearly $27,000 per birth, the estimated costs of the reduction in family planning funding are $81 [million], although this figure does not account for births to older women or births that occurred more recently. Therefore the costs of unintended pregnancy caused by the policy change outweigh the $73 million budget cuts.
"This certainly isn't the way to have fewer abortions," Dr. Diane Horvath-Cosper, an OB-GYN in Maryland, recently told HuffPost. "The abortion rates nationally have decreased and are at a historic low. So for Texans to see an increase in adolescent abortions is really telling—it seemed to have followed the national trend until these clinics were defunded."