On Thursday, Texas Republicans unveiled new legislation aimed at limiting access to restrooms for transgender people in the state. Yes, almost a year after North Carolina saw business flee and its reputation plummet after passing a similar law last spring, the lone state state is moving forward with their own bathroom bill, and setting the stage for a new showdown over LGBTQ rights.
Speaking to the press at a news conference announcing the proposed "Privacy Protection Act," Lt. Governor Dan Patrick framed the law as a way to prevent sexual predators from using local ordinances that allow trans people to use the restroom that aligns with their gender identity as a loophole to commit assaults.
Patrick opened his press conference Thursday by quoting Martin Luther King Jr., telling reporters, "Our lives begin to end the day we become silent about things that matter."
"Transgender people have obviously been going into the ladies' room for a long time, and there hasn't been an issue that I know of," Patrick told reporters. "But if laws are passed by cities and counties and school districts that allow men to go into a bathroom because of the way they feel, we will not be able to stop sexual predators from taking advantage of that law, like sexual predators take advantage of the internet."
The law specifically prohibits men from entering women's restrooms, but makes no mention of women entering men's rooms, since "men can defend themselves," Patrick said.
G/O Media may get a commission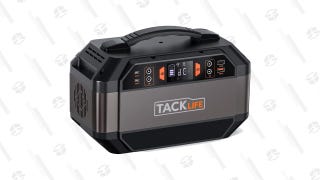 Tacklife Portable Solar Generator
In a statement, Texas Attorney General Ken Paxton cited his state's previous attempts to thwart the Obama administration's effort to enforce trans restroom access:

After our success in stopping President Obama's bathroom rules in court, states are now free to enact legislature of their choosing to protect privacy. Texans should feel safe and secure when they enter any intimate facility, so I applaud the work of Lieutenant Governor Patrick and Senator Kolkhorst for fighting to protect women and children from those who might use access to such facilities for nefarious purposes.
Patrick has long pushed for Texas to enact this sort of anti-LGBTQ legislation, telling KVUE this past April that, "I would sacrifice an election over keeping men out of my granddaughter's bathroom." Experts estimate the state could lose approximately $8.5 billion dollars annually should the bill pass—presumably for the same reasons North Carolina's economy was hit.
At the Texas Statehouse, where the Privacy Protection Act was introduced by Republican lawmakers, protesters stood holding signs and chanted "shame."
"After having watched the debacle in North Carolina, it is shocking that the Lieutenant Governor would be so intent on pursuing SB6," Texas ACLU Legal and Policy director Rebecca Robertson said in a statement. "It's unnecessary, discriminatory and inconsistent with the constitutional value of equal protection for all. And that's to say nothing of the havoc it will wreak on the Texas economy should it pass.
"Make no mistake, Robertson added, "the invidious intent of SB6 is to deny transgender Texans the ability to participate in public life."
Local CBS affiliate KEYE reported that state lawmakers are expected to approve the bill.