A children's speech pathologist lost her contract working in suburban Austin elementary schools after she refused to sign a mandatory pro-Israel pledge.
As the Intercept reported on Monday, Bahia Amawi, a U.S. citizen who has lived in the country for three decades, specializes in evaluating language difficulties in children. She has worked for the Pflugerville Independent School District on a contract basis since 2009. She speaks fluent English, German, and Arabic, which allowed her to help diagnose and support Arabic-speaking immigrant children.

However, Texas forced Amawi's hand in August when she realized her latest contract renewal required her to sign a pledge vowing she "does not currently boycott Israel" and "will not boycott Israel during the term of the contract." The provision also mandated Amawi refrain from "refusing to deal with, terminating business activities with, or otherwise taking any action that is intended to penalize, inflict economic harm on, or limit commercial relations specifically with Israel" or the occupied West Bank, which the contract called an "an Israeli-controlled territory."
A lawsuit on Amawi's behalf was filed Sunday in the Western District of Texas against the school district and state Attorney General Ken Paxton, according to KUT. The suit alleges the provision violates her right to free speech and that "Texas's ban on contracting with any boycotter of Israel constitutes viewpoint discrimination that chills constitutionally-protected political advocacy in support of Palestine."
According to the complaint, after Amawi told the district she couldn't sign the certification, she was told she could "cross out that particular section, initial, and sign it and provide the remaining required documentation." However, she later received a call from the district telling her it could not renew her contract without her signing the oath.
G/O Media may get a commission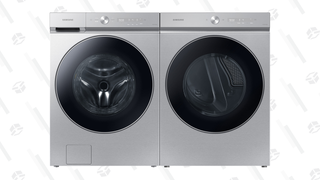 Get $500 back in credit
Last Chance: Samsung Bespoke AI Washer and Dryer Preorder
The Intercept emphasized Amawi doesn't consider herself an activist, but has made the choice to avoid buying products made by companies in Israel as part of the global movement to put economic pressure on the country to ends its occupation of the West Bank and Gaza. When asked if she considered signing away her right to even voice support for the Boycott, Divestment, and Sanctions movement, she told the site "Absolutely not":
I couldn't in good conscience do that. If I did, I would not only be betraying Palestinians suffering under an occupation that I believe is unjust and thus become complicit in their repression, but I'd also be betraying my fellow Americans by enabling violations of our constitutional rights to free speech and to protest peacefully.
In 2017, Republican Texas Gov. Greg Abbott signed the law that allowed the district to slip this provision into Amawi's contract. The law mandates that the state maintain a list of companies that boycott Israel and are thereby barred from being contracted by state agencies.
And these laws are increasingly common: Texas became the 17th state to pass such a law, according to the Forward, but a huge number of Americans are also subject to similar pro-Israel gag orders. According to Palestine Legal, per the Intercept, 26 states have passed anti-BDS laws, and another 13 states have introduced legislation, or have anti-BDS legislation pending.