RAYMONDVILLE, Texas — A giant smiley face watches over the town from a bulbous water tower that can be seen from almost every vantage point.
For nearly a decade, a private prison has accounted for roughly a quarter of the town's annual budget, including a large portion in water taxes.
But following years of alleged abuse at the prison, low-security inmates destroyed sections of the facility earlier this year, and the federal government withdrew its contract. Now, hope that the 10,000-person town will be able to rebound quickly is drying up.
With hundreds jobless, town leadership is left trying to figure out how they will fill the hole in the county budget.
G/O Media may get a commission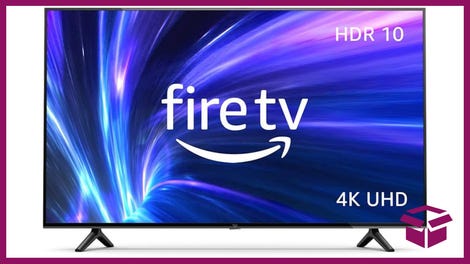 42% Off
Amazon Fire TV 50" 4K Smart TV
What's more, a $63 million debt related to the prison is looming over the county's investment corporation. If the quasi-governmental entity defaults, it could cause the town's credit rating to tank and seriously damage their ability to issue bonds in the future.
Locals say the deal seemed perfect. The town got a brand new facility, millions of dollars annually in taxes, and hundreds of new jobs. But some officials also say they were confused by the specifics of the agreement sold to them by the private prison company. Many said they were assured the town would be off the hook if something went wrong at what would come to be known as "Tent City."
On February 20th, immigrant prisoners set fire to the facility and brought down three of its 10 200-foot Kevlar tents with pipes and homemade weapons. What looked like a bastion of hope for the county and its residents became just the opposite.
"Willacy shouldn't be so confident that their general fund is safe," said Carl Takei of the American Civil Liberties Union (ACLU) in reference to the millions of dollars owed by the Willacy County Local Government Corporation to bondholders for costs associated with the prison.

Tent City was the largest of three private prisons in the County.
"It was the big money maker," Willacy County Sheriff Larry Spence told Fusion. "[Tent City] was a 3,000-bed facility."
"And then the riot happened, now we're talking about $2.7 million [in taxes each year] out of the county's budget that isn't there anymore," said Sheriff Spence. "It puts us in a deep hole. We were one of the poorest counties to begin with, with a high unemployment rate, and now this is really made a sore."
A TOWN RIPE FOR A PRISON

In the twelfth poorest district in the nation, where one in three lives below the poverty line, "the city with a smile" in Willacy County was fertile ground for a private prison. Prison companies have historically built in small towns with high unemployment, cheap land, and affordable utilities.
Willacy isn't the only county in trouble after the the private prison promise fell short. Littlefield, Texas, found itself in a similar hole when a company was unable to fill beds, as did Hardin, Montana and Huerfano County, Colorado.
"A private prison company promises this very attractive deal and then towns take on financial risks they don't fully understand," said Takei, who co-authored a 101-page report on federal private prisons. "[They] only figure out what they've signed when something goes very wrong and the town is left holding the bag."
Some small town officials say they were hoodwinked in other private prison deals, while others have been convicted of accepting bribes. In Willacy, two county commissioners who were convicted of accepting $10,000 bribes in negotiations for a smaller U.S. Marshall's prison deal also helped negotiate the Tent City agreement on behalf of Willacy. The same companies that built and operated the U.S. Marshall's prison, Hale-Mills Construction and Management and Training Corporation respectively, were also part of the Tent City contract.
There's never been any such accusations or charges brought in reference to the Tent City deal. MTC spokesperson Issa Arnita told Fusion that the company is "not aware of any wrongdoing or inappropriate behavior by anyone involved in the agreement between MTC and Willacy County," adding that the plan gave the county "significant, annual revenues which greatly benefited the residents."
Arnita maintains that MTC is "working tirelessly with Willacy County to secure another contract to reopen the facility" and that they would improve the facilities if successful in finding a state or federal contract.
A SHOT IN THE ARM
MTC pitched the new prison as a "shot in the arm" for the dying town, and at first it was, according to former Raymondville mayor Joe Alexandre.
"People still come up to me and tell me about how the prison jobs helped them buy a house, or a vehicle, their lives were changed because they were farm workers working in cotton fields and they stepped up to a better paying job," said Alexandre.
The former mayor defended the decision to build Tent City by saying that someone has to lock up criminals, and towns like Willacy might as well benefit from it.
But now, nearly 400 people who depended on the facility, some who relocated to Raymondville for a prison job, are out of work.
With a baby on the way, and a steady job at the prison, Ellie thought Raymondville was the perfect place to build a brand new house. The day she and her husband finished moving into their dream home, she found out that prisoners had destroyed three tents. The next day she found out the prisoners would be transferred away from Willacy. A week later she discovered she was jobless.
"The prisoners were really respectful, never mean, not violent. It wasn't that kind of environment," said Ellie, whose name we have changed at her request because she hopes to work at one of the town's neighboring prisons. "I never would have imagined a riot of that magnitude."
In 2011, the facility was converted into one of 13 controversial Criminal Alien Requirement prisons. It held low-security immigrant prisoners on behalf of the Bureau of Prisons, most of whom were mostly serving time for re-entering the country after a prior deportation.
The federal agency and MTC should have heeded the warning signs, some say: Last year, the ACLU found that there were vermin, overflowing toilets, and inadequate medical care that prompted overwhelming despair and frustration in dozens of men they interviewed. Initial local reports gave poor medical care as the reason for the riot.
MTC says they "completely disagree with and dispute the anecdotal allegations in the ACLU report" and maintain that their medical services are accredited by multiple independent associations. MTC claims prisoners rioted because of fear of being deported to specific areas of Mexico.
With a new baby and a new house, Ellie is now on unemployment, which she says covers less than half of what she made at the prison. She's attended nearly every job fair held in the town after the prison's closure, but says that most would require her to move, which is not an option because her husband has a job in town.
"It's still a shock, you go to work one day and the next day your job disappears," she said.
THE ONES STILL SMILING

Affixed to each of Catalina Ozuna's business cards is a small lapel pin that resembles the city's sunny water tower. Ozuna, the economic development director for Raymondville, is reminding locals there's still hope the city will be able to move forward.
"The [media coverage] has made it sound like this was devastating for the city of Raymondville or they make it sound like we're not going to get out of this," she said.
"But I see what's happening as a dent on a car, it's not permanent and there is a solution," said Ozuna, who maintained that a brand new hotel and an assisted living facility would help replace the jobs and taxes lost with the prison closing.
But there isn't much industry in Raymondville. If locals aren't working for one of the prisons, then they most likely work for the county, the school district or one of the local farms. Ozuna acknowledged that the lost prison jobs were high-wage positions that are "very unlikely" to come by in the Rio Grande valley.
"Maybe [the new hotel jobs] are not a $15 dollar an hour job but it's a permanent job that offers benefits," said Ozuna.
For now, one of the immediate impacts on the County of Raymondville has been a hiring freeze. Sheriff Spence recently lobbied county officials to allow him to hire three officers. They allowed him to hire just two — both required by law. The county has also halted a $7.3 million project to renovate a historic mold-ridden courthouse due to the budget crisis.
For locals who own restaurants and shops, the impact has been immediate. Restaurants near the prison don't have breakfast or lunch traffic they once did. And the prison workers who lost their jobs are struggling.
For John Chavez, who worked as a security guard at the prison, the disappearance of that job came at the worst time possible.
Just a week after he lost his job, his son, who the family calls "Johnny Boy" was involved in a serious car accident which has left him paralyzed from the waist down. Johnny Boy, 22, lost his insurance at the end of last month after Chavez's insurance ended.
"His father was told that he was no longer going to be needed at the facility since they were closing it down permanently," the young man's mother, Diana "Dee-Dee" Vasquez, told Fusion.
Johnny Boy's parents have had to scramble to figure out how they'll pay for his new insurance.
"Health-care reform helped us out. There's a lot of things to be grateful for, he's still with us. So that's the most important," his mother said.
Without the father's income, the family is struggling to come up with how they'll pay for the unexpected medical fees. Chavez has been staying in Austin to be close to Johnny Boy as he's getting physical therapy.
The city with a smile has felt Johnny Boy's pain. Several members of the community have started fundraisers; a recent BBQ fundraiser sold out. Johnny Boy's aunt launched a GoFundMe fundraiser online that's collected $10,000 in just over three weeks.
Dee-Dee, Johnny Boy's mother, says she's grateful for the support.
"It's a tight community and I had never realized how tight we really are," said Dee-Dee Vasquez.
Correction: A former version of this article stated that the facility was converted to a Criminal Alien Requirement prison in 2006. It was converted in 2011.
Cristina is an Emmy-nominated reporter and producer. She recently won an Alfred I. duPont-Columbia University Award for her documentary Death by Fentanyl. She attended Yale University and has reported for the New Haven Independent, ABC News, Univision, The Huffington Post, and Fusion.
Jorge Rivas is the national affairs correspondent at Fusion. He follows the national conversation through the lens of racial, sexual, and political identity.