There is something both disconcerting and inspiring about watching Hulu's The Handmaid's Tale in 2017. Even though it's been in the works for years, the dystopian thriller about an America seized by religious fundamentalists who severely restrict the rights of women reads as post-election commentary. It's impossible to watch the flashbacks of June and Moira protesting and not immediately recall the various Women's Marches. The Handmaid's Tale is a warning about a dire future. It's a rallying cry for women that hits very close to home. And it's not the only one.

There's a new trend infiltrating both TV's more forward-thinking world and film's seemingly impenetrable one: empowering stories about strong women and the feminist utopias they can offer. In the last year, around a dozen such television shows and films have cropped up. We've seen films like Atomic Blonde, Wonder Woman, Girls Trip, Rough Night, Snatched, and Battle of the Sexes (set for a September release). There are shows like GLOW, The Handmaid's Tale, Claws, I Love Dick, and the latest season of Orange Is the New Black. These shows and movies have been putting forth an increasingly revolutionary idea of womanhood that's braver, more prescient, and more relevant than ever.
This feminist utopia couldn't come at a better time, when women are still dealing with the gender pay gap, are being denied sovereignty over their own bodies, and are living in a country run by a caricature of toxic masculinity who bragged about sexual assault.
Of course, the idea of an "empowered woman" in pop culture isn't new—we wouldn't be here without Leslie Knope, Olivia Pope, Katniss Everdeen, Mulan, or Ripley. And to be fair, television has been gracing us with feminist programs like Orange Is the New Black, How to Get Away With Murder, Broad City, Veep, Girls, Being Mary Jane, Inside Amy Schumer, and others for a few years now. But it seems as if mainstream Hollywood has never been more dedicated to independent, diverse, borderline-militaristic women.
G/O Media may get a commission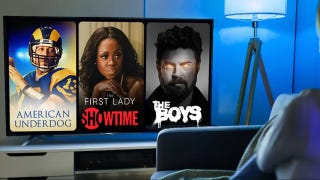 UNDER $1
99¢ Prime Video Channels
The trend of the most recent cohort of feminist media follows a woman or group of women who directly buck gender expectations and end up reshaping the world. Across the board, we see glimpses of feminist utopias (or feminist resistance in dystopias, in the case of The Handmaid's Tale), with women seizing control, from Themyscira to the prison revolt of the OITNB's fifth season to the meta-visuals of GLOW to the women of Claws running business as usual.
We hear and see iterations of "Girl power!" and "Nevertheless, she persisted" playing out on the screen, giving us feminism in action: Wonder Woman's Diana (Gal Gadot) declaring that she's ready to fight for those who can't fight for themselves, or (spoiler alert) the handmaids in The Handmaid's Tale taking a stand and refusing to stone one of their own to death, or GLOW's Ruth (Alison Brie) criticizing the lack of strong roles for women in Hollywood.
Many of these films and shows portray the strength of women in a very literal sense: Wonder Woman, GLOW, and Atomic Blonde all focus on the female form (sans male gaze), taking "fight like a girl" to the next level.
"The most obvious way to see that women are empowered is through physical ability," Michelle Materre, associate professor of media studies and film at the New School, told me over the phone.
But even Girls Trip, a film without an explicitly feminist message, stuck it to The Man by having the best box office opening for an R-rated comedy in two years—proving that a raunchy comedy led by black women is something people want to watch (and pay to watch).
"People are anxious for these kinds of images," Materre said. "People are tired of women taking the back seat of women not being in lead roles. It's 'Yeah, let's show these assholes that we're not taking this sitting down.'"
But where did this momentum come from? "The media is solely a reflection of the times," Materre said. "We are living all the trends we're seeing in terms of the types of mainstream films that are coming out."
Over the last few years, we have seen feminism grow from an unappealing, outdated concept that many female celebrities shrank from to a softball magazine interview standard. Whether used as a shallow branding tool for corporations or an earnest form of engagement, feminism has permeated our society and media. It seems it was only a matter of time before the themes of groundbreaking shows like Sex and the City, Buffy the Vampire Slayer, Gilmore Girls, The Good Wife and Orange Is The New Black would launch a full-fledged trend. We're at the point where feminism has been co-opted by the likes of Ivanka Trump and Tomi Laren, who use the tenets of female empowerment as a saccharine glaze over their aggressively capitalist brand of white (girl) power.
Part of Hollywood shifting focus to female empowerment has to do with more social pressure to remedy the rampant sexism that plagues Hollywood. Only 29% of the lead roles in the top grossing films of 2015 were given to women and only 7.7% of those films were directed by women. The statistics are worse for women of color. "I think it's finally hitting Hollywood and more mainstream media that women and women of color are abysmally underrepresented," Materre told me.
Meanwhile, women in the industry have been taking matters into their own hands. Actresses openly discuss and fight against the enormous gender pay gap they face. Behind the camera, shows like Queen Sugar and Jessica Jones are hiring only women directors for their episodes, creating a feminist utopia of their own, helping talented female directors who are often denied opportunities make the jump into television.
And we can't talk about female empowerment in media without discussing the gob-smacking election of Donald Trump.
"I think it's kind of obvious that we have a government that, at its head, has a leader that is openly is misogynistic, machismo, and anti-women," Materre said. To have films like Wonder Woman and shows like The Handmaid's Tale succeed in an era defined by the crass, arrogant, and destructive masculinity that is the Trump administration amplifies their empowering message.
At the ATX Television Festival this past June, a panel of producers discussed the impact Trump's election had on the television. While the election led producers to change specific scenes and storylines in shows like Casual, Underground, and the Originals, House of Cards writer Beau Willimon explained that the trauma of the election paired with the fierce Writers Guild negotiations, created a "a charged political consciousness happening among the screenwriters and television writers that you're going to see percolating into almost everything you watch."
While the majority of The Handmaid's Tale was filmed before Election Day, executive producer Bruce Miller explained in a Hollywood Reporter interview that Trump's election and the idea that people were given permission to say "the venomous things they had always thought aloud" had caused him to make some changes to the show.
While it's easy to see these projects as resistance art in the age of Trump, it's worth noting that they were probably greenlit and in development during campaign season (or earlier). It's possible that shows like GLOW and The Handmaid's Tale were written and filmed under the assumption of a Clinton presidency. "Perhaps people were anticipating Hillary to be the first woman president," Materre said. Perhaps it was this excitement, she added, that encouraged studio executives to sign off on these characters. After all, entertainment is meant to be aspirational.
"We're looking for some kind of hope or some kind of goal that is sort of beyond being realistic," she said.
We still have a long way to go: Just because there is an uptick in feminist programming doesn't mean that women and women of color are being properly represented in Hollywood.
And who's to say this isn't just a trend? We've lived through the white male anti-hero trend (Mad Men, Breaking Bad, Sopranos), the manchild (Will Ferrell and Seth Rogen), the womanchild (Bridesmaids, Girls, Broad City), and we're still splat in the middle of our true crime obsession (Serial, Making a Murderer, The People v. O. J. Simpson). So there's a very good chance that this feminist utopia could end up being a fad. "I don't think we can tell at this point," Materre said. "We just have to wait and see."